HSLS supports the training of students interested in health sciences librarianship by providing real-world experiences. HSLS provides this opportunity in conjunction with the School of Information Sciences (SIS) Partners Program, SIS internships, and the Department of Biomedical Informatics (DBMI) Traineeships.
Partners
The SIS Partners Program is a partial tuition scholarship program that matches the interests, skills, and background of students with opportunities at institutions such as HSLS.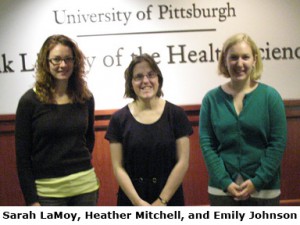 This year we welcome three Partner students.
Emily Johnson graduated from the University of Wisconsin-Milwaukee with a degree in information resources. She is interested in a career where she will be able to apply her technological and information skills.  Emily is interning in the Reference Department in Falk Library where she staffs the reference desk and is currently working on a library space usage study that examines where and how patrons use Falk Library.
Sarah LaMoy attended Haverford College where she studied comparative literature.  Sarah has long held a particular interest in special collections, though she plans to specialize in health sciences librarianship. Sarah is interning in the Technical Services Department in Falk Library, where she is updating serial holdings through OCLC. She also staffs the Rare Books Room and helped create a display to accompany the Opening Doors exhibit.
Heather Mitchell earned a degree in English and creative writing from Coe College in Cedar Rapids, Iowa. She is enrolled in the SIS School Library Certification Program. Heather is interning at the Children's Hospital of Pittsburgh of UPMC (CHP) libraries. Her projects include collection development, displays, and story times for patients at CHP.
Interns
SIS Interns at HSLS gain valuable work experience in an academic health sciences library setting and class credits at the same time. Interns are assigned to projects in different areas of HSLS libraries depending on their qualifications and interests.
This fall we welcome one intern.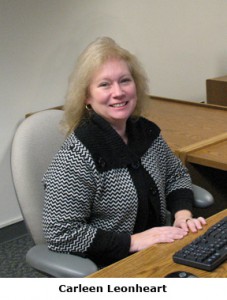 Carleen Leonheart earned an undergraduate degree in health information management from the University of Pittsburgh where she is currently an MLIS student concentrating on the health resources and services track. Carleen plans to graduate with an MLIS degree in December. She worked in medical records for many years and currently works as a medical transcriptionist.  At HSLS, Carleen is interning in the Reference Department in Falk Library where she staffs the reference desk, attends Morning Report in the Department of General Internal Medicine once a week, and creates the National Disease of the Month displays in the reference department.
Biomedical Informatics Trainees
HSLS and DBMI offer a joint training program in health sciences librarianship and biomedical informatics, funded by the National Library of Medicine. This initiative is a year-long educational opportunity for individuals who have earned a Master of Library Science degree, and who have special interests or experience in health sciences librarianship and biomedical informatics.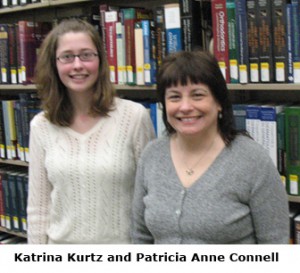 This year we welcome two Biomedical Informatics Trainees.
Patricia Anne Connell received her BA in journalism from Penn State University. Her advanced degrees include an MBA and MLIS from the University of Pittsburgh. Patricia is interested in medical librarianship because it gives her the opportunity to interact with health science professionals and integrate some of her prior work experience, as well as continually learn new skills and tools in information management. As a biomedical informatics trainee, Tricia is working on a project to investigate information behaviors related to prescribing. She is also reviewing patterns in e-mail reference questions and developing several "@ Your Pace" online tutorials.
Katrina Kurtz, from Reading, Pa., is a graduate of the University of Pittsburgh where she received her BS in molecular biology and English literature, with a minor in chemistry, and her MLIS. Upon graduation, Katrina decided that she would prefer to support researchers with their experiments rather than carrying them out herself and enrolled in the MLIS program. Last spring, Katrina interned at HSLS in the Molecular Biology Information Service Department, where one of her tasks was to update the Online Bioinformatics Resources Collection (OBRC), which contains annotations and links for bioinformatics databases and software tools.  As a biomedical informatics trainee in the same department, Katrina continues to update OBRC and is researching its usability.
~ Jill Foust