Falk Library has recently acquired facsimiles of two interesting medical manuscripts from the 14th century. Manuscripts, as unique objects, present a collecting challenge to both libraries and their patrons. Unlike books printed in multiple copies, manuscripts can only be in one geographic location—no matter who owns them. It is therefore impossible for other libraries to even dream of having the same manuscript. Since they can be so unreachable, the patrons who want to see and study manuscripts face barriers to access them, as well. Facsimiles—print books that are exact replicas of the originals—give patrons access not only to the intellectual content of the text, but also to the look and feel of the original manuscript. To libraries, facsimiles are a more affordable way of enriching the scope of their collections.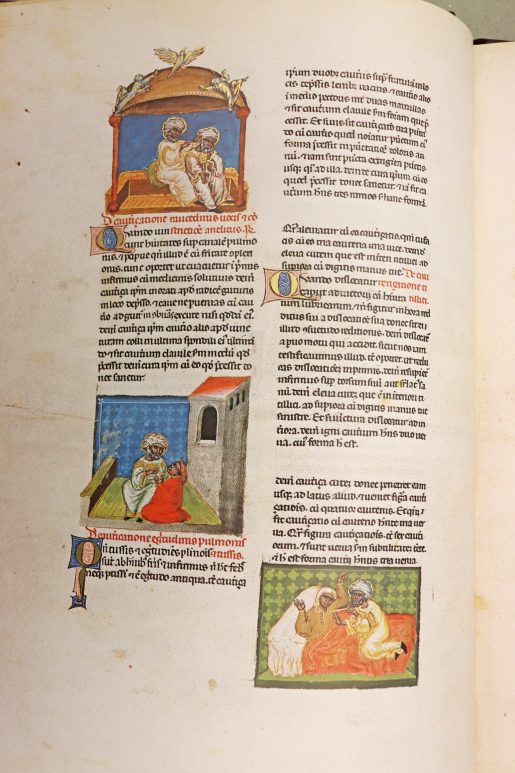 Falk Library's two newest acquisitions are two surgical texts from the Middle Ages: Codex Vindobonensis and Manuscript Sloane.
Codex Vindobonensis SN 2641, Chirurgia Albucasis, the illuminated manuscript held by Österreichische Nationalbibliothek in Vienna, was created in southern Italy in the second quarter of the 14th century. It was written earlier, in the ninth century, by Abu'l Qasim Halaf ibn Abbas al-Zahrawi (the court physician to the Caliph al-Hakam II), as part of his monumental thirty-volume medical encyclopedia. Only the parts on surgery in Al-Zahrawi's encyclopedia were translated from Arabic to Latin by Gerard of Cremona in the 12th century. Al-Zahrawi was the greatest surgeon of the Middle Ages: he introduced 200 surgical instruments, used ligature for bleeding vessels, and described ectopic pregnancy. His Chirurgia became the standard textbook for the next 500 years. The manuscript is decorated by gilded initials and adorned with 68 miniatures showing different surgical procedures, done by an anonymous artist.
The facsimile (Gratz, 1979) is accompanied by a volume of commentaries by Eva Irblich.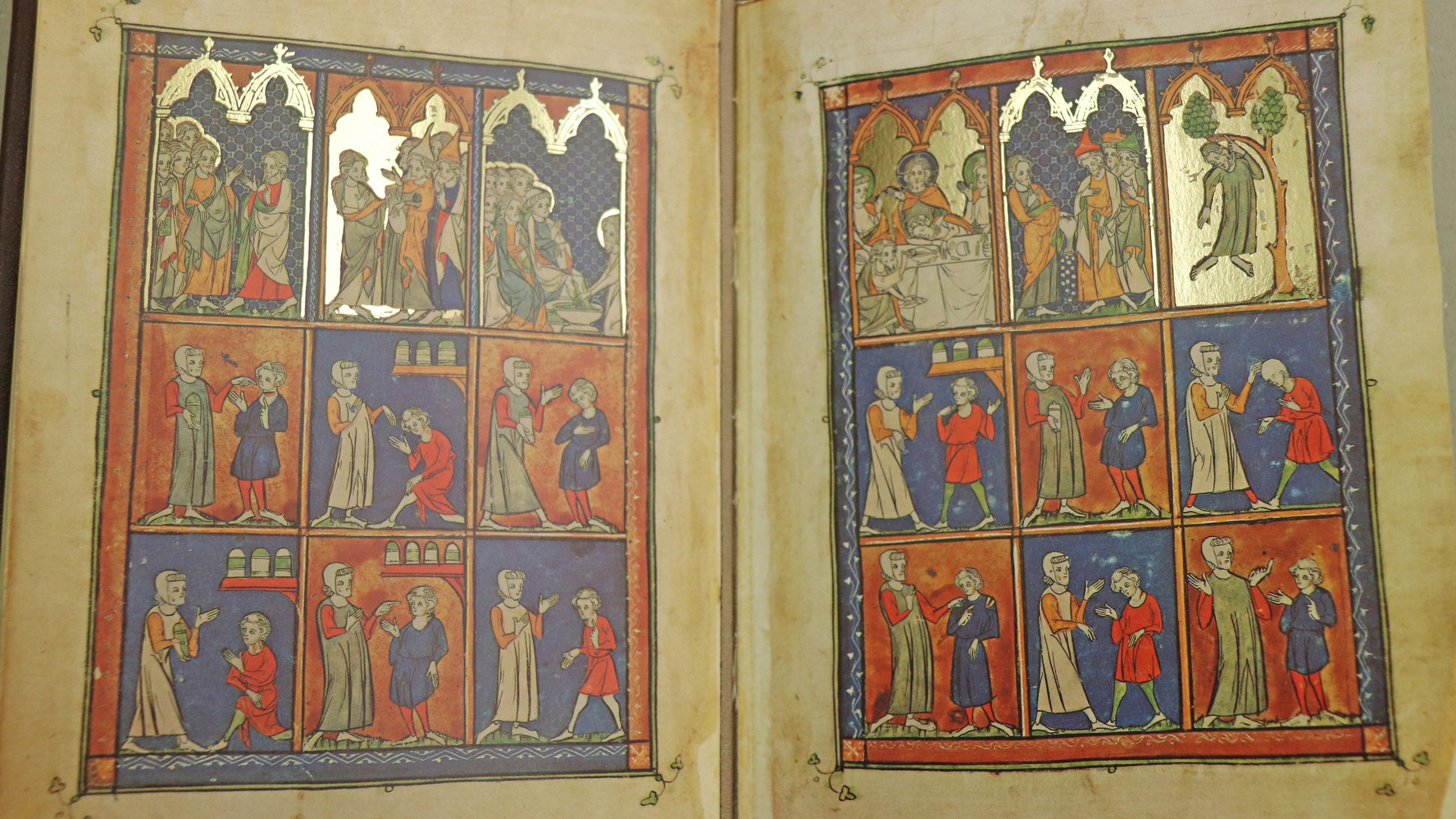 Sloane MS 1977, Chirurgia, an illuminated manuscript held by the British Library in London, was created around 1310. It also includes the text "Simple Medicines" by Platearius, as well as several prescriptions attributed to Hippocrates and Galen. The longest text, Chirurgia, was written by the Lombard surgeon Roger Frugardi in 1170 and is translated into French. Since there are no references to illustrations in the text and the text is very descriptive, it suggests that Frugardi did not plan to include illustrations. However, the Sloane manuscript is illustrated. It is also unique in that each illuminated page includes nine miniature illustrations: three upper ones which are biblical in nature, and the remaining six are medical. This unusual combination of biblical and surgical scenes puzzles researchers to this day. Based on stylistic features of the miniatures, some attribute them to an artist active in Picardy around 1340, known as the "Master of Sainte Benoîte." However, some argue that they were done by an artist from Amiens in the first quarter of the 14th century.
The facsimile by Editions Medicina Rare (Weiler im Allgau, c. 1980) is without commentaries.
Both of these items are currently on display in Falk Library, as part of a broader exhibit of facsimiles in our collection. These new acquisitions are currently on display in the library's front lobby and can be viewed during open hours.
~Gosia Fort