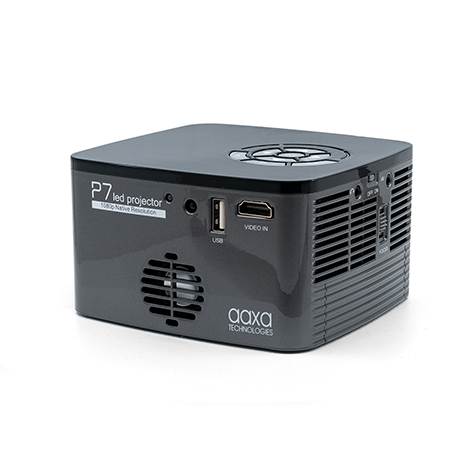 HSLS now has two AAXA P7 Mini LED Projectors available for borrowing. Though the P7 mini projector fits in the palm of your hand and weighs just 1.48 pounds, it remains powerful, projecting images at 1080p and up to 120 inches in screen size. These mini projectors can be taken anywhere on campus and are a great option if you're presenting in a non-traditional space, such as a showcase/presentation hall or a meeting room without display technology.
The projector includes a built-in speaker and onboard media player with USB and TF card ports for direct media playback. Other inputs include HDMI, mini-VGA, and composite AV. The projector's battery can last up to 90 minutes; for longer use, the projector circulates with a power cord. If your presentation area doesn't have a blank wall to project onto, HSLS also has screens available for borrowing that can be used with the projector.
To borrow a mini projector, visit the Technology Help Desk on the library's upper floor with your valid Pitt ID. The standard loan period for each projector is four hours, but you are welcome to contact the Technology Help Desk with inquiries about extended loan periods, as well as other questions.
~Julia Reese