The HSLS Staff News section includes recent HSLS presentations, publications, staff changes, staff promotions, degrees earned, etc.
News
Sue Burke is working part-time for the National Network of Libraries of Medicine, Middle Atlantic Regional office (NN/LM MAR). In addition to her duties as document delivery specialist, Burke is providing administrative support for the NN/LM MAR staff. Burke began working at HSLS in 1989, first in the Circulation Department, and then transferred to the Document Delivery Department in 1998. She will continue to work in these departments on a part-time basis.
Barbara Epstein, HSLS director, has been re-appointed to a four-year term on the Joint Legislative Task Force of the Medical Library Association and the Association of Academic Health Sciences Libraries.
Jeff Husted has been promoted to HSLS Head of Collections. In this position, he is responsible for collection development of electronic and print resources, including materials selection and acquisition, analysis of usage and trends, vendor relations, serials management, and oversight of the acquisition budget. As a member of Management Council, he participates in overall library planning and management. Jeff has been at HSLS since 1997, when he earned his BS degree in biology at Pitt. He worked in various positions in Technical Services, rising through a series of promotions.  In 2006, he was appointed acquisitions manager, and continued to steadily assume more responsibility in that area. He earned an MLIS from the University of Pittsburgh's School of Information Sciences in 2009, and was appointed acquisitions librarian and then collections librarian.
Tristan Lucchetti, formerly NN/LM MAR administrator, has moved into the HSLS director's office to become HSLS Business Manager. In his new position, Lucchetti will oversee the financial operations of the NN/LM MAR, and will also assume responsibility for HSLS business operations and human resource functions, including budget monitoring and planning, employment/payroll records, and travel and reimbursement requests.
Nancy Tannery, senior associate director, has been appointed a member of the National Library of Medicine's Literature Selection Technical Review Committee that recommends journals to be indexed in MEDLINE/PubMed.
Publications
Jonathon Erlen, history of medicine librarian, published "Disability studies: Disabilities abstracts" in The Review of Disability Studies: An International Journal, 8(2):67-68, 2012, with co-author Megan Conway.
Farewell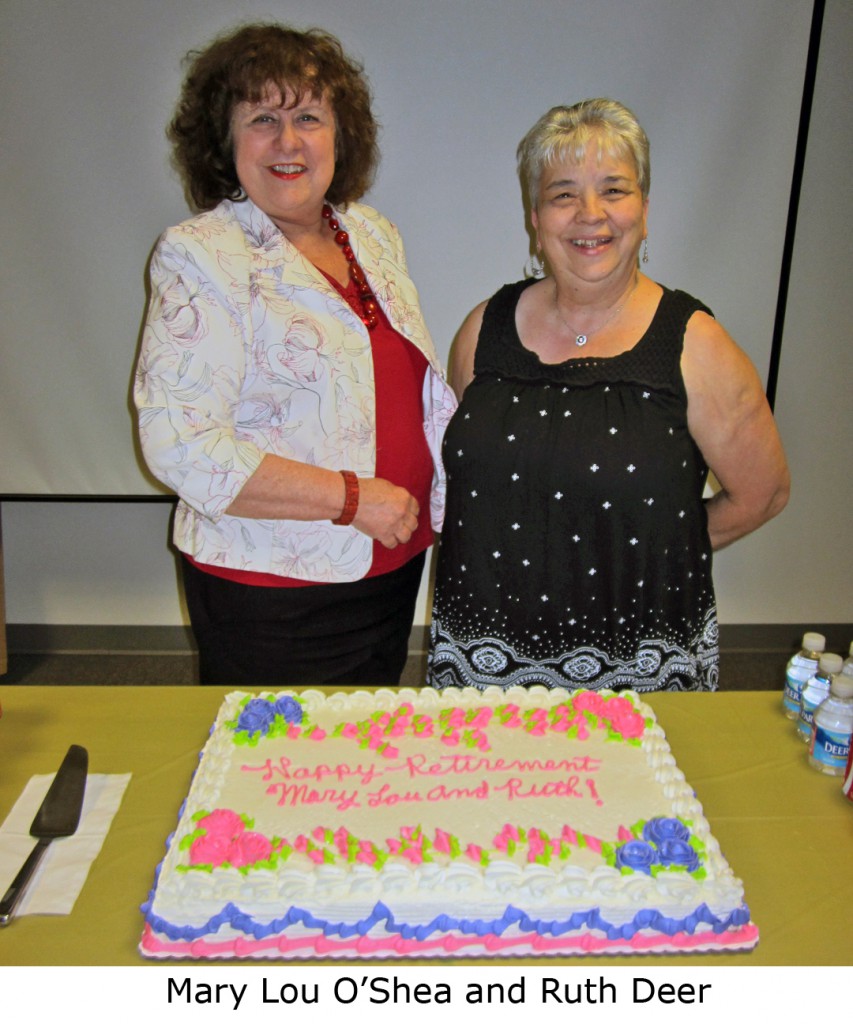 Ruth Deer, HSLS document delivery specialist, retired at the end of June after 12 years at Falk Library. Ruth was highly entertaining and always helpful and generous. Her festive outfits will be missed during the holidays and Steeler season. Deer looks forward to spending more time with her young grandson.
Mary Lou O'Shea, HSLS administrative secretary, retired from the University at the end of June. For a retrospective look at O'Shea's 40-year career, please see "HSLS Administrative Secretary Retires after Four Decades of Service" in this issue.
We wish both Ruth and Mary Lou a wonderful, healthy retirement!