February 13-17, 2023, is Love Data Week (LDW), an international event designed to raise awareness about research data management, sharing, preservation, and—most importantly—how we at the libraries can help you! To celebrate, a variety of workshops, presentations, and drop-in help sessions have been planned throughout February.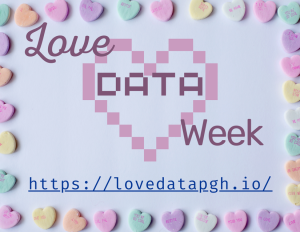 To tie in with the Pitt 2023 Year of Emotional Well-Being, many of the LDW presentations emphasize healthy learning and professional development. These sessions will help you learn to avoid getting hung up on producing the perfect code or plot, instead focusing on starting where you are and working with the tools available to you.
The keynote address, "The Value of Compassion in Learning Data Science," will be given by Ted Laderas, PhD, of DNANexus. The talk will equip attendees with strategies for learning, teaching, and building an inclusive learning environment related to data science. This online presentation takes place on Monday, February 13, at 10 a.m. (registration required).
See Love Data Week 2023 at Pitt for a complete schedule with descriptions and registration links. Highlighted below is a sampling of presentations from colleagues within the health sciences.
Love Data Week 2023 at Pitt is a joint project by the University Library System (ULS) and Health Sciences Library System (HSLS) with support from the Year of Emotional Well-Being Funding Opportunity.
~Melissa Ratajeski