GoPubMed is a free biomedical literature search tool that expands on PubMed search results through ontology and categorization rather than chronology. After search terms are entered, GoPubMed sorts results into four categories: What, Who, Where, and When. These correspond to relevant concepts, authors, affiliations, journals, and publication dates. The categories expand and collapse for easy viewing.
Category Highlights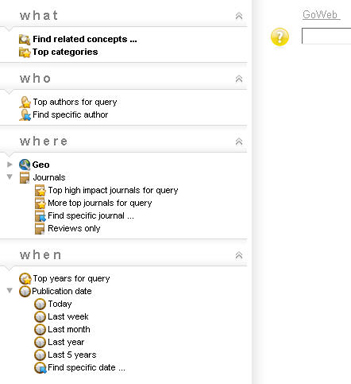 The What category groups search results into three Top Categories: Gene Ontology ( GO; controlled vocabulary for genes and gene products), Medical Subject Headings ( MeSH; controlled vocabulary thesaurus from the National Library of Medicine), and the Universal Protein Resource ( UniProt; protein sequence and function).
The Who category quickly identifies leading scientists and centers working in the biomedical area matching the search query. Authors are listed with the number of PubMed citations.
The Where category lists geographic locations, high impact factor journals, top journals, and review articles.
The When category provides a publication timeline for search results. Top years for query lists the years with the most matching citations.
Bibliometric Analysis of Retrieval
Another novel aspect of GoPubMed is the Statistics feature, which performs bibliometric analyses of search results. After conducting a search, click on the "Statistics" tab to view the results through bar graphs, charts, and visual representations of the top authors, top countries, top cities, top journals, number of publications over time, and author collaboration network.
GoPubMed was developed at the Technical University of Dresden and at Transinsight.
To access this resource, type "GoPubMed" in the search.HSLS box on the HSLS home page. For questions, contact a reference librarian. Read the original article on GoPubMed for additional information.
Parts of this article were reprinted from GoPubMed.
~ Charles Wessel
Posted in the 2009 August 2009 Issue