YouTube is a robust online platform with one billion hours of videos viewed on a daily basis. When videos are used as an educational resource, there is a strong emphasis on accessibility; video content should be equally accessible to those who are deaf, hard of hearing, or late-deafened; are second-language learners; or who have learning disabilities. Video captions can help meet the needs of many of these viewers.
YouTube supports Closed Captioning (CC). CC contains text that corresponds to spoken words. When CC is on, the text appears within the video frame near the bottom and changes as the video advances.
If you are adding content to YouTube, you have access to powerful captioning tools from within the YouTube website. When logged in to your YouTube account, go to the Video Manager within the Creator Studio. Each video has an Edit drop down box: select Subtitles/CC to add or edit captions.
YouTube's automatic caption feature does an excellent job at transcribing captions based on analysis of the audio. Since YouTube is such a widely used platform across the world, the speech recognition feature is well-trained and can even transcribe accented English with accuracy.
Automatic captions are usually added to videos based on the language you designate, and are available with a short delay after the video has been uploaded. Once applied, automatic captions can be edited manually; this is helpful to correct any inaccuracies, misspellings, or capitalization errors. When working with automatic captions:
Edit the caption text on the left side of the screen. These will scroll as you play the video, and stop when you type.
Edit the caption start and end time on the left by typing a new timestamp or on the right underneath the video by clicking and dragging along the timeline.
Note there is no Undo button, and edits are not saved until you click Publish edits. You can edit just some of the captions, publish them, and return later to edit more.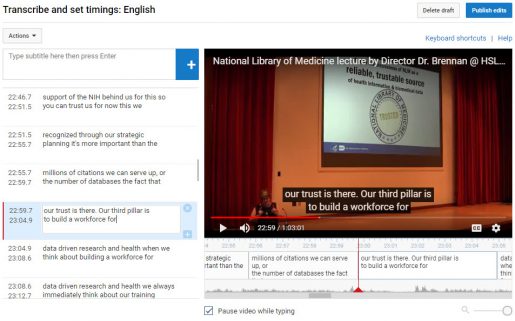 If it's difficult for you to find the time to manually edit your automatic captions, you can get editing help from the YouTube community! Community contributions are a way to let your viewers contribute captioning, and can be enabled for some or all of your YouTube videos.
~Julia Dahm
Posted in the September 2018 Issue