April 2009
» Next Entries
Seeking answers to questions such as "How satisfied was the patient with the inpatient care received?" or "What is the attitude of our emergency room staff towards patients with drug problems?" often sends researchers and their staff in search of appropriate measurement tools. Suitable tests can be difficult to locate and are seldom freely available to the public. However, HSLS librarians can provide the expertise and resources to assist researchers in locating measurement tests. Read more

Like most other academic programs, libraries use measurements or rankings to compare with others in their peer group.  In our case, we consider our peer group to be academic health sciences libraries serving the top ten NIH-funded research institutions.  In 2007-08, the latest year for which we have comparative library statistics*, these top ten institutions were (1) Harvard University, (2) The Johns Hopkins University, (3) University of Pennsylvania, (4) University of California, San Francisco, (5) University of Washington, (6) University of Pittsburgh, (7) UCLA, (8) Duke University, (9) University of Michigan, and (10) Washington University in St. Louis. Read more
Locating the full text of a journal article when you have the citation can be confusing. The most efficient route to the full-text of a journal article often depends upon the starting point. Two common starting points are described below with explanations on how to get from those points to the desired article. Read more
The Western Psychiatric Institute and Clinic (WPIC) Library closed permanently on December 19, 2008. The arduous task of moving the materials to new locations is nearly complete. The goal throughout the relocation process has been to retain the core psychiatric collection.
New locations for WPIC materials: Read more

You are probably familiar with AccessMedicine, an online resource that provides health professionals with access to more than 50 medical titles from the best texts in medicine, including Harrison's Online, CURRENT Medical Diagnosis & Treatment 2009 (CMDT), and The MD Anderson Manual of Medical Oncology, but are you familiar with these three useful components of AccessMedicine? Read more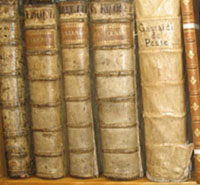 Preservation of materials is a core value of libraries, whether the items are print or electronic, analog or digital. With print materials, the most vital concern is the environment in which materials are stored. Heritage Preservation recently published a report, The Heritage Health Index Report on the State of America's Collections. According to the study, "Providing a safe environment and proper care for collections is a fundamental responsibility of all institutions and individuals who care about our heritage." The study also found "the most urgent preservation need at U.S. collecting institutions is environmental control." Read more
HSLS routinely provides internships to MLIS students from the University of Pittsburgh's School of Information Sciences. This semester we welcome two students. Read more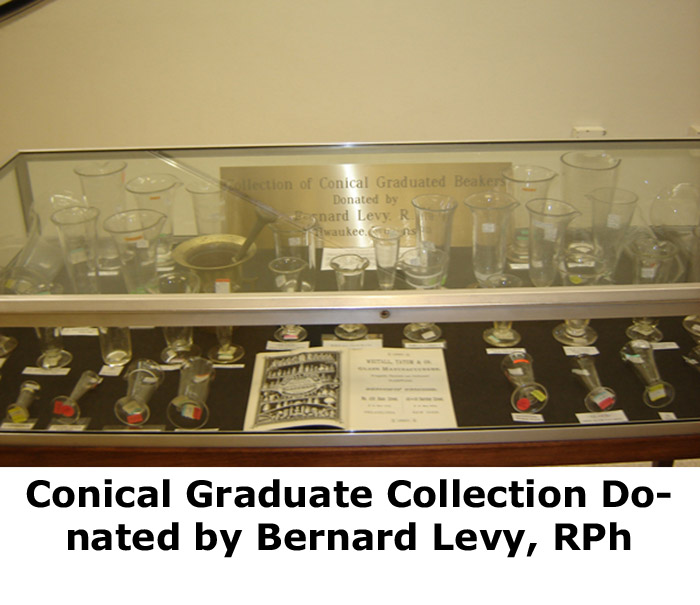 Glistening conical glass graduates from the School of Pharmacy's Elmer H. Grimm, Sr. Pharmacy Museum are now on display in the lobby of Falk Library of the Health Sciences.  Varying in size from a 50 minim graduate to one of 32 ounces, the oldest is one with the bottom marked "HODGSONS PATENT FEB.18, 1862." A conical graduate is a glass cylinder or beaker, with graduation lines and markings to measure the volume of liquid, and in the past, has been the most used tool of the pharmacist in filling prescriptions.
» Next Entries