Special Fall 2009
» Next Entries
It's that time of year again—summer is over and it's time to get back into the swing of things. This special issue of the HSLS Update, an online newsletter, is an introduction to the services and resources available at the Health Sciences Library System. Read more
Do you have a question about how to search a specific database? Feeling overwhelmed and not sure where to begin researching a topic of interest? Ask for help from your school's liaison librarian, contact information is listed below. Read more
Is Falk Library on your personal list of unknown territories? Get the lay of the land from our Web site. The library's new virtual tour is a brief FAQ based on questions our patrons have actually asked us, plus others that they may be too…polite to ask. We hope that taking a few minutes to watch the tour will get you thinking creatively about how our resources and services can make your information life better and easier. And we can promise that the next time you stop by the library, some of the faces you see will already look familiar.
The HSLS home page provides access to library resources and answers to commonly asked questions. The main features of the site are detailed below.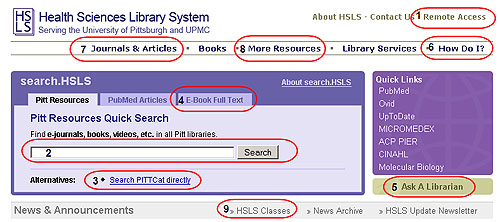 Read more
If you are affiliated with the University of Pittsburgh, you should use Pitt's Secure Remote Access service for access to most HSLS and other Pitt online resources.
UPMC employees should use the Connect@UPMC service to gain access to HSLS online resources. Read more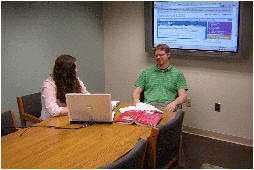 Because two heads are better than one, Falk Library offers four group study rooms—spaces to communicate and learn while still maintaining the library's quiet atmosphere. The rooms may be reserved for up to 4 hours, and accommodate 2 to 8 people. Each group study room contains a table, chairs, a laptop (upon request), and a plasma display monitor. Read more
After you've identified a journal citation, locating the full text of a journal article can be confusing. The most efficient route to the full-text of a journal article often depends upon the starting point. Two common starting points are described below with explanations on how to get from those points to the desired article. Read more
HSLS supports the educational needs of health sciences faculty and students. Teaching faculty should be aware of the many ways HSLS can provide course assistance.
How the library can help: Read more
» Next Entries