Special Fall 2008
» Next Entries
It's that time of year again—summer is over and it's time to get back into the swing of things. This special issue of the HSLS Update, an online newsletter, will introduce the services and resources available at the Health Sciences Library System to the students and faculty of the University of Pittsburgh Schools of Health Sciences. Read more
Do you have a question regarding how to search a specific database? Feeling overwhelmed and not sure where to begin researching a topic of interest? Ask for help from your school's liaison librarian, contact information below. Read more


Are you looking for a specific book or DVD? Do you have a citation to an article and want to obtain the full-text? Make PITTCat your first stop. PITTCat is the online card catalog for the Health Sciences Library System (HSLS) and other University of Pittsburgh libraries. PITTCat contains information on electronic or print books, journals, audiovisual aids, and other items held in all University of Pittsburgh libraries. Read more
The HSLS homepage provides access to library resources, journals, and answers to commonly asked questions. The main features of the site are detailed below.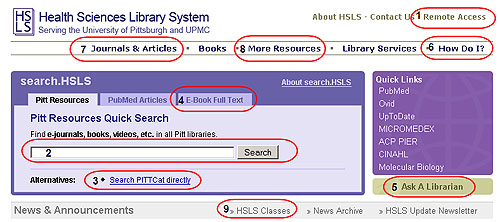 Read more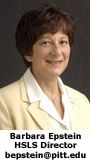 The staff at HSLS is pleased to welcome new and returning faculty and students. Though we've hardly been napping all summer, it's fun to get back into the faster pace that fall term brings. HSLS librarians spent the summer orienting new UPMC residents, working with students from the Pennsylvania Governor's School for Health Care, planning orientations and workshops for the fall, adding new resources, and expanding access to old favorites such as Up To Date. Read more
Out of the office? Need access to an electronic journal article at 2 a.m. on a Sunday? No problem! HSLS can assist you with your information needs 24/7, whether you are sitting in your campus office or in a Starbucks in Hawaii. With an HSLS account, licensed databases and e-resources are readily available from our Web site and can be accessed from any computer with an Internet connection. HSLS accounts also allow you to access the computers located in HSLS libraries. Read more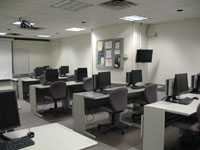 The Computer & Media Center (CMC), located on the second floor of Falk Library, is open to health sciences faculty, students, and staff. Technology available at the CMC includes scanners, DVD burners, and Windows XP computers.
Other technology/services available at the CMC include: Read more
The Health Sciences Library System (HSLS) supports the educational needs of the health sciences faculty and students. Teaching faculty should be aware of the many ways HSLS can provide course assistance.
How the library can help: Read more
» Next Entries