March 2017
Although not a type of literature typically found in health sciences libraries, comics are receiving attention as a promising educational resource for the health professions. Green and Myers, using the term "graphic pathographies" to refer to comics depicting illness and healthcare experiences, have argued that these narratives may lead to a "visceral understanding" that conventional texts cannot replicate. Ian Williams, credited with coining the term "graphic medicine," notes that comics contain images, symbols, and manipulated text that can depict not just outwardly obvious illnesses, but also concealed medical conditions and mental or cognitive states resulting from both. This complexity allows the author to portray illness in a way that "…transmits the raw veracity of lived experience." Read more
Pitt's Health Sciences Library System (HSLS) and University Library System (ULS), and Carnegie Mellon University (CMU) Libraries are pleased to announce a new borrowing policy that allows faculty, staff, and students at either university to borrow materials directly from any of the libraries. At ULS and CMU libraries, the loan period for materials is 120 days for faculty, staff, and graduate students, and 90 days for undergraduate students. The loan period for HSLS books is three weeks. Borrowers at all libraries will have unlimited renewals. Read more
PILOTS is the Published International Literature on Traumatic Stress database. According to the U.S. Department of Veterans Affairs website on PTSD (Post-Traumatic Stress Disorders), PILOTS is the largest citation database on this topic. It attempts to include all publications relevant to PTSD and other forms of traumatic stress, whatever their origin without disciplinary, linguistic, or geographic limitations. Coverage is from 1871 to the present, with monthly updates. Read more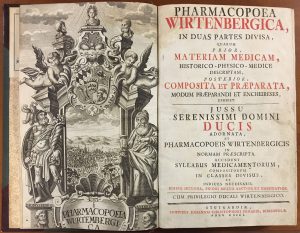 A pharmacopeia, in the modern sense, is a list of drugs and medicinal preparations, serving as an authoritative source of identification and a standard to be followed. Before the emergence of these works, however, medicines were described together with other treatments as part of general medical texts. Some were depicted in herbals and others in the materia medica books, with traditional medical remedies. Read more
The National Institutes of Health invites your feedback on the newly redesigned ClinicalTrials.gov database. The beta version is available for user testing for at least one month and can be accessed from the "Try our beta test site" link in the upper left corner of the ClinicalTrials.gov homepage or directly at https://clinicaltrials.gov/beta/. Please submit your comments by clicking on the Give us feedback link in the upper right corner of the beta site. Read more
The HSLS Staff News section includes recent HSLS presentations, publications, staff changes, staff promotions, degrees earned, etc.
Datasets
Melissa Ratajeski, Coordinator of Data Management Services, Carrie Iwema, Molecular Bioinformationist, and Andrea Ketchum, Research and Instruction Librarian/Scholarly Communication Liaison, have deposited "Data Management Practices of Health Sciences Researchers" into the public data repository, figshare, and into Pitt's D-Scholarship institutional repository.
HSLS offers classes on database searching, software applications such as Prezi, bibliographic management, data management, and molecular biology and genetics. For more information, visit the online course descriptions.
Classes are held on the first floor of Falk Library (200 Scaife Hall) in Classroom 1 and on the upper floor of the library in Classroom 2. All classes are open to faculty, staff, and students of the schools of the health sciences at the University of Pittsburgh, who will need a valid Pitt ID or e-mail account. They are also open to UPMC residents and fellows, who will need to show their UPMC IDs. Read more