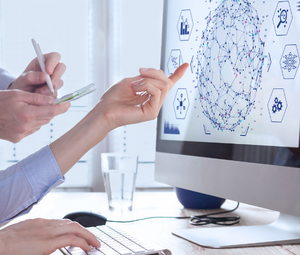 HSLS offers classes in a wide array of subjects—citation management, database searching, bioinformatics software, and more! You can quickly view all Upcoming Classes and Events or sign up to receive the weekly Upcoming HSLS Classes and Workshops email.
Featured workshop of the month: Visualizing Research Impact with VOSviewer
Monday, April 25, 2022, noon-1:30 p.m.
Register for this virtual workshop*
Visualizing Research Impact with VOSviewer is a hands-on class that introduces participants to techniques for creating data visualizations with VOSviewer, a software tool used to generate, visualize, and analyze bibliometric networks that include journals, researchers/authors, or individual publications. These networks can be created based on data downloaded from various sources, such as Web of Science and PubMed. Whether they illustrate author collaborations, analyze article citation patterns, or explore research trends through text mining, data visualization can be an effective way to tell your research impact story and add value to a wide variety of reports.
Attendees of this workshop will gain a deeper understanding of VOSviewer, the benefits of visualizing research impact, the limitations of visualizing data, and when it is appropriate to utilize data visualization. This class will go through a few examples to help get participants started with making their own visualizations and will demonstrate how to illustrate author collaborations, show the influence of articles, and do text mining to visualize research trends.
This class is offered to those who have an interest in exploring research impact through data visualization and is perfect for early-career researchers, faculty, and research managers. Those who do not have experience with data coding but want to learn how to mine text and create bibliometric network visualizations are also encouraged to attend.
Participants are encouraged to review the system requirements, download and install VOSviewer before class, and follow along with the class examples. A basic knowledge of research metrics prior to the class is helpful, but not required to attend. Participants are also encouraged to come prepared with questions or topics that they are interested in investigating.
If you are unable to attend, this scheduled session can also be repeated on request. Request a customized session of Visualizing Research Impact with VOSviewer and other HSLS workshops for your course, group, or department.
Contact Ask a Librarian to find out more.
*HSLS classes are open to University of Pittsburgh faculty, staff, and students, as well as UPMC residents and fellows. A valid email address is required to register.
~Marissa Spade