With the university's upcoming cloud storage migration, you may be preparing to sync your files to OneDrive. However, before you do so, consider your EndNote libraries. To prevent possible file corruption, EndNote libraries must be stored on a hard drive and not synced to any cloud storage service (including OneDrive).
If you have your EndNote libraries currently stored on the "Desktop" or in the "Documents" folder, you may want to move them to a different location on your computer, such as in their own separate folder (not within Desktop or Documents) on the C drive (C:). If you do not want to move them, then be aware that you should not allow OneDrive to sync whichever location (either Desktop or Documents) contains your EndNote Libraries. When you first set up OneDrive on your computer, you will see a prompt (pictured below) to back up your folders to OneDrive, with Desktop, Documents, and Pictures all selected by default. Uncheck the Desktop and/or Documents folders if you have any EndNote libraries stored in these locations.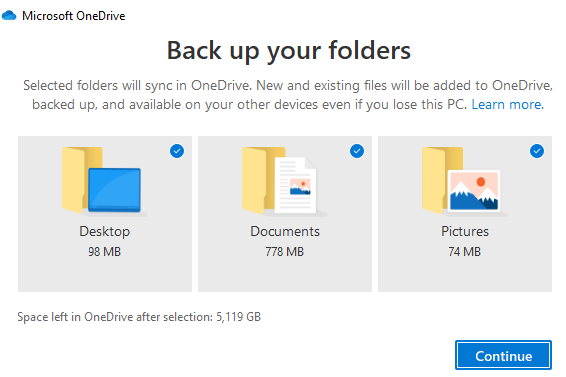 Additionally, if you do wish to move your EndNote libraries to a different location on your hard drive, make sure to move both the .enl file and the .data folder that exists for each library. The .enl file and .data folder should always be stored in the same location. No matter what you choose to do, it is always a good idea to create a backup of your most important EndNote libraries by creating a compressed library or by using EndNote online.
Do you want to learn more about ways you can use EndNote safely with the cloud? Register for our EndNote for Remote Teams class or visit Ask a Librarian.
~Rebekah Miller and Rachel Suppok