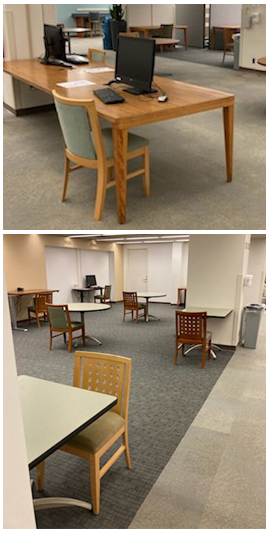 Due to space restrictions during the COVID-19 pandemic, study seats at Falk Library are currently limited. To ensure that you have adequate space and time you need to study, you will soon be able to reserve a seat online before coming to the library.
To get started, go to the online study seat reservation page and click on "Reserve." You can filter available study spaces by location (main or upper floor) and type (scanning station, computer seat, or table/desk seat). To make a reservation, simply select a study space, the date and time you're planning to visit, and enter your name and e-mail address. Reservations can be made for up to four hours and can be booked up to ten days in advance.
After making your reservation, you will receive a confirmation e-mail with a check-in code. When you get to the library for your reserved study time, sit at any open seat in the category you reserved. Seats are not numbered. For example, you may sit at any open table seat on the main floor, or any open computer seat on the upper floor. Then, use the code you received in the confirmation e-mail to check in online and let us know you've arrived. When you're ready to leave, check out online to tell us that your seat is open, and you're good to go! The whole process is contactless when you use your mobile device or a computer at Falk Library, but the Main Desk staff are always available to assist with your seat reservation.
Please remember that even when using the booking system, all visitors to Falk Library will be required to show their valid Pitt ID and follow all University COVID-19 guidelines and best practices. For questions or assistance with the seat reservation system, please send an e-mail to Ask a Librarian or call 412-648-8866.
~Julia Reese