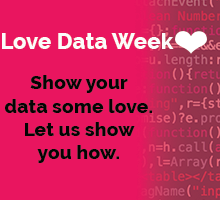 February 10–14 is Love Data Week (#lovedata20). To celebrate, the HSLS Data Services team has 5 simple tips for showing your data love through data management best practices. Contact us with any data related questions.
1. Organize your data considering the "80/20 rule."
Typically, 20% of files are used 80% of the time. Give forethought on how to organize your files. The files you access most routinely should not be buried 10 clicks down in a folder structure. The following examples illustrate two folder structures for the same data.
Heart_Regeneration

Rat1

Camera_Images
Pressure
Slides

Heart_Regeneration

Camera_Images
Pressure
Slides
2. Create and consistently use a file naming convention.
A file naming convention is a framework for naming your files in a way that describes what they contain and how they relate to one another. One best practice for creating a file naming structure includes using the ISO format (shown below) so that there is no ambiguity for dates. For example, 1262011 could be interpreted three ways: 12 June, 2011; December 6, 2011; or January 26, 2011.
YYYYMMDD or YYYY-MM-DD
(Attend the HSLS coffee break in March to learn more file naming best practices.)
3. Document, document, document!
Create a README file in the root folder of your dataset. README files are documents saved in plain text (.txt) or markdown (.md) format. Some recommended details to include are:
contact information for the data creators
date created
licenses or restrictions placed on the data
data dictionary
description of methodology (with links or references to publications or other documentation containing experimental design or protocols used)
4. Save your files in a non-proprietary (open) format when possible.
The format in which your files are saved influences the ability for them to be opened in the future. Non-proprietary, or open, formats (i.e. .csv) are more inter-operable and allow for long-term preservation and potential reuse. If your data cannot be saved in an open format: include the required software name, version, and parent company in your README file documentation.
5. Back up your data using the "rule of 3."
Back-ups can protect against accidental or malicious data loss. The "rule of 3" is usually suggested for backing up your data:
Two onsite copies; but physically separate (i.e. NOT an external hard drive sitting on top of your desktop computer) AND
One offsite copy (i.e. remote server or cloud)
~Melissa Ratajeski