In advance of the early 2020 rollout of the new PubMed interface, a number of features were recently introduced on PubMed Labs. PubMed Labs is the redesign test site for the PubMed database.
Home Page
Under the search box on the home page, there are four information icons: Learn, Find, Download, and Explore. Under each icon, there are links to easy-to-understand documentation about using PubMed, as well as links to other valuable PubMed features, such as the MeSH Browser and the Advanced Search page.
Near the bottom of the home page, there are two columns. The left column lists Trending Articles that have shown recent increases in activity. In the right column, you will find the Latest Literature, which features new articles from highly accessed journals.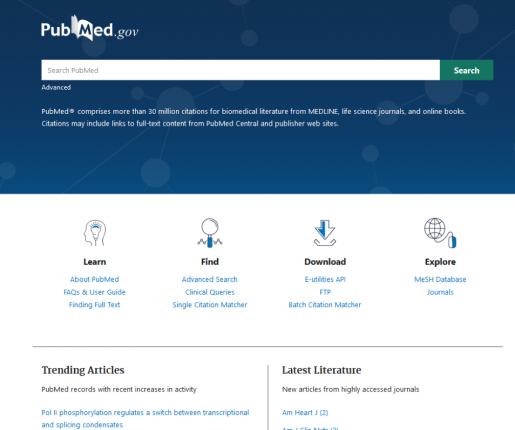 Filters
In addition to PubMed's most popular filters, which are readily available on the main search page, your retrieval can now be reduced further by the using the "Additional filters" pop-up menu. This menu is accessible by scrolling to the bottom of the filter list on the main search page's left sidebar. Click on Additional filters and a pop-up menu will appear.
Filters are arranged by category, including Article Type, Species, Language, Sex, Subject (AIDS, Cancer, Systematic Reviews), Journal (Dental Journals, MEDLINE, Nursing Journals), and Age. Click on the desired category, e.g., Language, and then select the languages of interest to you. You can then select other categories and specify desired filters within those categories. When you are done, click on Apply.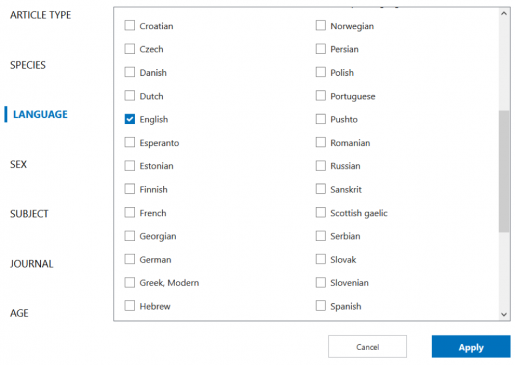 The filter(s) selected will now appear at the bottom of the filters menu on the main search page. You must now select each filter one at a time.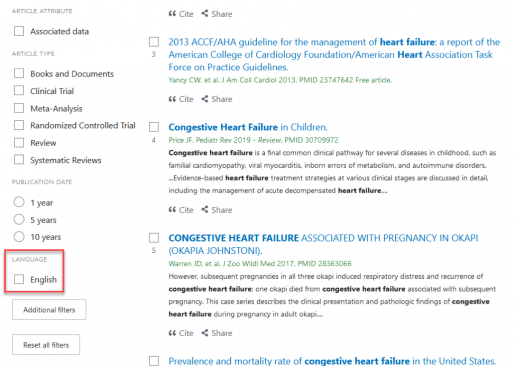 After each filter is applied, the total number of results listed at the top of the page will be reduced to reflect that the filter was successfully applied.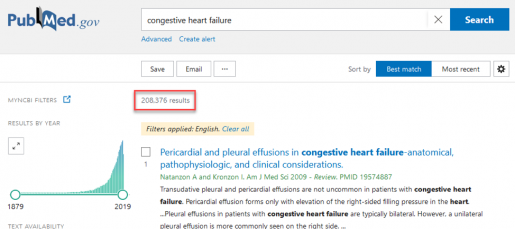 You can also increase your retrieval by deselecting filters one at a time.
A quick way to limit by publication year is to use the early results slider located above the filters menu. Use the slider to add or remove publication years from your retrieval.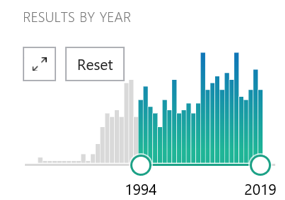 Help
The PubMed User Guide includes FAQs and user-friendly instructions on how to search PubMed.
About PubMed
For a detailed description of what resources are included in PubMed, check out the About PubMed page.
PubMed Labs is a work in progress. You can look forward to additional features in the near future. Try it! Your feedback is welcome!
~Jill Foust