medRxiv (pronounced "med-archive"), a new preprint server for the health sciences, has recently been launched. Preprint servers are managed online archives that provide free and immediate access to unpublished manuscripts (aka preprints) outside of the formal peer-review process.
Over the past five years, the number of articles in preprint servers has dramatically increased, as described in this Nature Research news article. However, many clinical researchers have been reluctant to embrace preprints, concerned that patients treated with guidelines influenced by preprint results may be harmed.
To mitigate such concerns, medRxiv has instituted several safeguards for submission including:
Authors must declare that all relevant ethical guidelines have been followed.
Any clinical trials described should be registered with an internationally recognized trial registry and the trial ID included in the manuscript.
Authors must include a competing interest statement and a funding statement.
Each manuscript undergoes a basic screening process for offensive and/or non-scientific content and for material that might pose a health risk.
A warning appears on the server's main page and each preprint has a prominent note: This article is a preprint and has not been peer-reviewed [what does this mean?]. It reports new medical research that has yet to be evaluated and so should not be used to guide clinical practice.
medRxiv "accepts preprints of articles covering all aspects of research in the health sciences" with subject areas including anesthesia, geriatric medicine, medical education, oncology, pediatrics, and surgery to name a few.
Note: One of the cofounders of medRxiv, Cold Spring Harbor Laboratory, also operates another preprint server, bioRxiv, with the scope of life sciences, including cell biology, genomics, pathology, and zoology. These two preprint servers can be searched together or separately by clicking on the "advanced search" link under the search box of either server.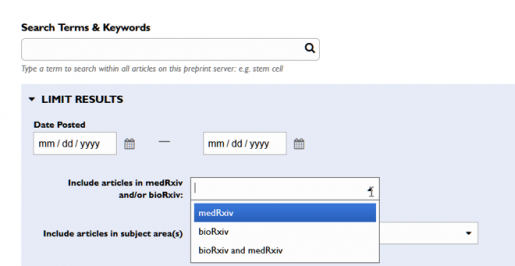 To date, medRxiv includes 309 preprints, several from University of Pittsburgh colleagues. Although many research journals allow posting on preprint servers prior to publication, use the SHERPA/ROMEO tool, as outlined in this past HSLS Update article, to be certain or contact an HSLS librarian for assistance.
~Melissa Ratajeski