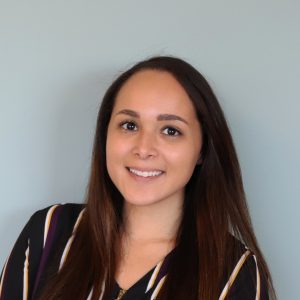 HSLS provides resources and services to the faculty, researchers, students, and staff in Pitt's health sciences community. In order to better reach out and connect to these populations, HSLS has hired its first marketing specialist, Marissa Spade. Marissa began working at HSLS on August 5, 2019. She is a graduate of Robert Morris University with a bachelor's degree in Marketing. She has varied, practical experience including a marketing internship at SDC Nutrition, Inc., and a position at an inside marketing sales firm.
Q. Why is it important for the Health Sciences Library System to have an overall marketing strategy?
A. HSLS has an abundant amount of resources. However, it is important to let our target audiences know that these resources and services are available, and that is where my role comes into play. My main goal is to increase awareness of the Health Sciences Library System and the products and services we offer.
Sometimes marketing gets a bad reputation because it can be viewed as "pushy" or "too sales-focused." However, marketing is really just learning what your audience needs and promoting the services and resources you have that can help fulfill those needs. The return on your investment and sales type goals are important, but first you must have a service mindset. Essentially, my role is to let the health sciences faculty, researchers, students, and staff know that we value them and have resources that are beneficial to their success.
Q. This is the first time the library has had a marketing specialist. Where will you start?
A. I have already begun to work towards our goal of marketing on a systematic level by starting with our own internal marketing materials. This process includes creating a branded style guide for all HSLS faculty and staff to reference, including the fonts and colors we use, along with our logo variations, and best practices for using them. I'm focusing heavily on internal branding, such as print and digital signs, e-mail signatures, PowerPoint presentations, and anything else that falls under that umbrella. Having uniform internal branding makes the library appear more professional and is a great starting point for future marketing projects.
Q. There is social media, videos, blogs, websites, and print media. Do you think we should market on all of these media or select a few to focus on?
A. All of the elements mentioned can be categorized into two different marketing methods:
Traditional marketing: print media, television, radio, etc.
Digital marketing: social media, videos, websites, etc.
As an academic library, there is a need to blend elements from both methods. For example:
We are currently utilizing elements from digital, such as social media, to establish our presence on campus and provide more readily available information.
Our website is one of the most, if not the most, important element. Often, your target audience will view your website for information before they physically come to the library. For example, someone will check our website to see when we are open, instead of coming straight to the library.
As for videos and blogs, those elements should be incorporated into our marketing strategy at a future time.
Traditional media is important also, because we still utilize print signs for many of our resources and services. We offer numerous classes and workshops that are beneficial to the health sciences community, so print posters are helpful to promote these resources.
Q. The library's service population is primarily Pitt health sciences faculty, researchers, students, and staff. Should the marketing approach to each group be different? If so, how?
A. Yes, absolutely. Simply put, a first-year medical student will have different needs than a third-year dental student. The very first thing I did during my first week was conduct a target market analysis. It is crucial to know who your audience is before beginning any other marketing projects. You need to identify the needs of your audience, access how your services provide solutions to those needs, and then analyze the best way to promote these services and resources.
Marissa is looking forward to developing a variety of marketing tools to promote the resources and services of the Health Sciences Library System.
~Jill Foust