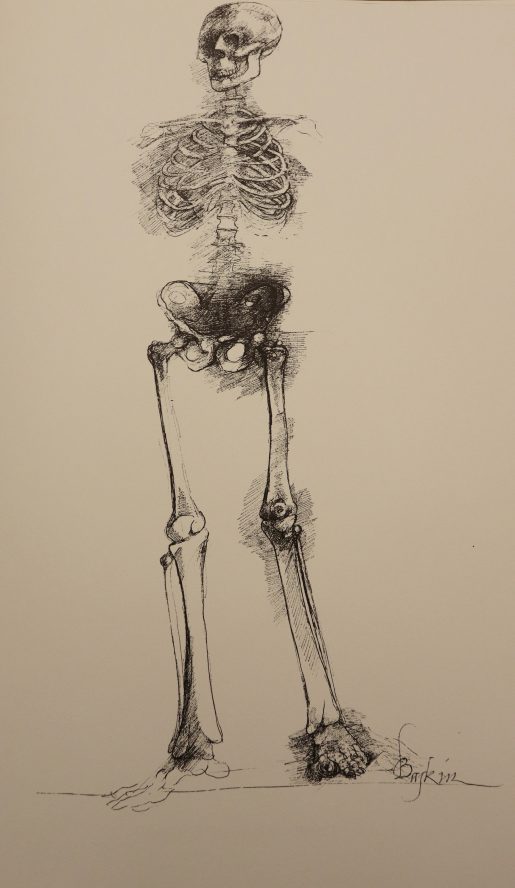 Leonard Baskin's Ars Anatomica: a medical fantasia, thirteen drawings (1972) is the most recent addition to our historical collection. The book was donated by Dr. Brian Primack, the former dean of Pitt's Honors College. The portfolio includes thirteen anatomical drawings commissioned by Editions Medicina Rara from a contemporary artist, Leonard Baskin (1922-2000).
Baskin studied sculpture and art at NYU and Yale University; polished his skills in Paris and Florence; and worked as a professor of drawing, printmaking, and sculpture at Smith College (1953-1974) and Hampshire College (1984-1994). He founded Gehenna Press, which published finely illustrated books, mostly editions by poets Ted Hughes and Anthony Hecht. Baskin was already a well-known sculptor, illustrator, and printmaker when approached by Editions Medicina Rara. This commission played well to the artist's interest in historical anatomical atlases and his fascination with death. As a result, the drawings created between 1970 and 1972, offer a profound statement about man through portrayal of his physicality. Baskin drew these without the necessity of concern for scientific accuracy—therefore anatomists will note omissions and distortions. But the drawings do speak to the human condition and the artist shows that "man, however debased, paunchy, and victimized by a malign world, is still glorious."
This portfolio was printed on a specially made paper with a private watermark. Lithographs were made from original pen and ink drawings and signed and dated by Baskin. The elephant folio was published in a limited edition. Each copy is signed by the artist in pencil.
It is our good fortune to receive such a gift since this art book complements our extensive collection of anatomical atlases perfectly.
Ars Anatomica can be viewed in the Rare Book Room by appointment.
~Gosia Fort