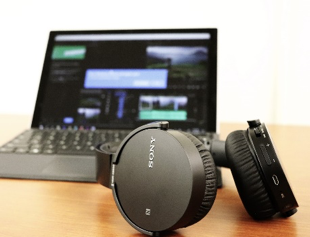 Thanks to the magic of Bluetooth, you may not have to bring the usual number of cords with you on your next visit to Falk Library. All of the library's public computers were recently upgraded to include Bluetooth capabilities, which means that it is now possible to transfer files between devices without the help of a flash drive or annoying cables.
To transfer files between a Falk Library computer and another device, first make sure that your device supports Bluetooth file sharing, its Bluetooth is on, and your device is discoverable. In Windows, pair your devices, and then click on Send or receive files via Bluetooth (found in the Devices section of the Settings menu) and follow the instructions in the dialogue box for file transfer. In macOS, open the Bluetooth File Exchange application; then select your device and file to transfer.
Another exciting feature that comes with the new Bluetooth desktops? Falk Library computers can now be paired with Bluetooth headphones, which have become increasingly popular in recent years. Forget yours at home? Don't sweat it. Wireless Sony Bluetooth headphones are now available to borrow from the Technology Help Desk with a valid Pitt ID.
For assistance with transferring files via Bluetooth or pairing Bluetooth headphones to the library's computers, please contact the Technology Help Desk.
~Julia Reese