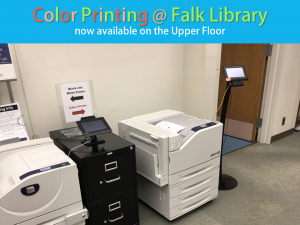 By popular demand, a color printer is now available to Pitt students and faculty at Falk Library. For the first time, color-printing access with your Pitt quota is available outside of the CSSD labs. You can find the new color printer on the library's upper floor, across from the Technology Help Desk.
Pitt students and faculty receive a $63 printing quota per semester. Color printing is $0.49 per page, while black and white printing is $0.07 per page. Double-sided printing is enabled by default.
There are three ways to use the color printer at Falk Library:
From any library computer or laptop, choose Pitt Color Print Station from the print dialog box.
From your laptop or personal computer, install the Pitt Printing client.
From your mobile device, send an email to colorprint@pitt.edu.
Contact the HSLS Technology Help Desk for more information.
~Julia Dahm