The artist, Jacques-Fabien Gautier, later known as Gautier D'Agoty (1717-1785), was a French painter, engraver, and printer who moved to Paris around 1735. In the French capital, he briefly worked as an assistant to Jacob Christoph Le Blon, the inventor of a three-color printing process using red, yellow, and blue plates. After Le Blon's death in 1741, Gautier not only took over the business, but he also successfully claimed the title of "inventor of color printing." He secured the royal privilege and funding for his own printing endeavor to prove it. The basis of his claim was that in addition to the three plates of colors used by Le Blon, he introduced a fourth, black plate. He further refined the technique by switching the order in which the colors were applied.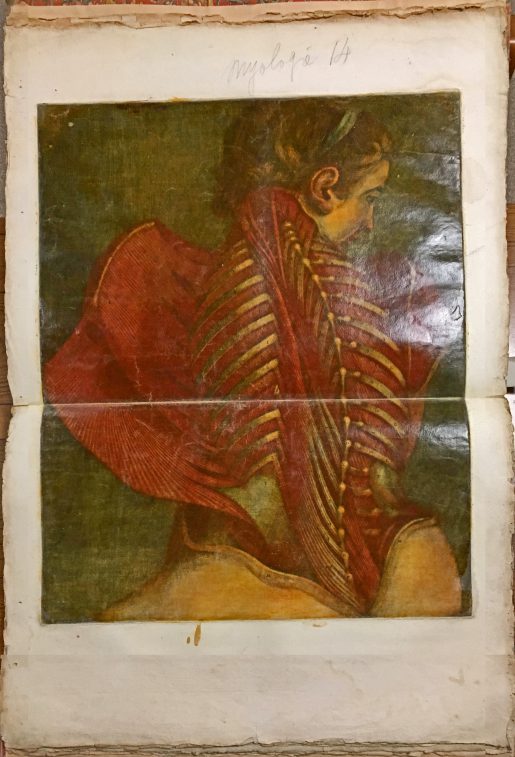 The "Flayed Angel" (also known as the "Anatomical Angel") comes from Myologie Complete (1746), an anatomical atlas by Gautier D'Agoty. The large color plate (46 cm x 60 cm), printed across two folio leaves, is one of the biggest illustrations in the Falk Library collection. In it, a woman appears alive despite the fact that the dissector pulled away muscles like wings to reveal her spine. This beautiful rendering of a dissected body is one of 20 illustrations produced by this new printing technique, which consisted of a base etching and a mezzotint engraving of a copper or metal plate in which four separate impressions were made from black, red, yellow, and blue plates to give the final image its colors.
The works of Gautier D'Agoty have a special place in the history of printing not only because of the novelty of his technique, but also because of the spectacular final effect. The rich color, details of the drawing, and the gloss finish make his illustrations glow, giving the viewer the impression he is looking at an oil painting and not a printed image. This fantastic printing technique is a primary reason to review Gautier D'Agoty's work.
~Gosia Fort