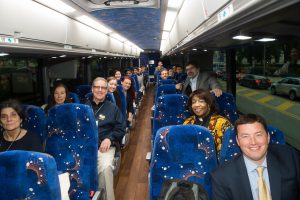 On May 23, 2018, I traveled to the state Capitol to serve as one of the enthusiastic ambassadors representing our university at Pitt Day in Harrisburg. Present for the event were Chancellor Patrick Gallagher, faculty, staff, alumni, students, plus Pitt's mascot Roc the Panther. From departure to return I saw a number of familiar Pitt faces including Albert Tanjaya who is a student government board member and Chuck Staresinic from Academic Affairs in Pitt's Health Sciences. The trip provides additional opportunities for forging new relationships with others who share Pitt as a common denominator. Sitting directly behind me on the motor coach were Tom Armstrong and Janet Gerster. It was lovely meeting them and learning about their very important roles as recruiters in the Office of Human Resources. Tom is a recruiter for Veterans and Individuals with disABILITIES.
It was agreed that the group's targeted objective was to collectively and personally communicate Hail To Pitt! (H2P) as Pennsylvania legislators were preparing to pass the annual state budget at the end of June. Information packets addressed to individual legislators and maps of the Pennsylvania Capitol were distributed to each participant on the bus ride to Harrisburg.
After arriving and passing through security, we divided and conquered. My first visit was to the office of the Honorable Jake Wheatley in the East Wing of the Capitol Complex. Wheatley represents the 19th district in the Pennsylvania House of Representatives, which includes the neighborhood where I currently reside. After receiving a warm welcome in his office, I walked to the offices of the Honorable Dom Costa, the Honorable Dan Frankel, the Honorable Vanessa Lowery Brown, and the Honorable Mike Turzai. Not surprisingly, the government leaders on my radar screen were at work outside of their offices. Their absences prompted me to enlist Plan B: visit and dialogue with their legislative aides. The aides were very cordial and quite generous with their time. Each of my conversations provided a wonderful opportunity to share my personal perspective about Pitt's multi-faceted contributions locally, regionally, and globally. As Web Editor at Falk Library of the Health Sciences, I opened and closed my remarks with a salute to HSLS by highlighting a few of the many jewels in our library's crown. All of the legislative aides heard about the library's phenomenal staff, loyal and studious patrons, enormous scope of digital resources, extraordinary Rare Books and Special Collections, and wide variety of informational and instructional services and classes. They assured me that they would relay the packets as well as my words.
Leaving Harrisburg a few hours after arriving, I settled into my seat on the bus feeling confident that each of the handshakes, all of the eye contact, the large number of perfectly prepared packets of information left behind, and every single and synergistic H2P! heard that day registered and will reverberate as intended.
~ Donna Perkins