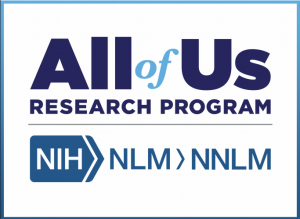 The All of Us Research Program Training and Education Center is a new UG4 cooperative agreement with the National Library of Medicine (NLM) in partnership with the All of Us Research Program (AoURP). The Training and Education Center (TEC) is the central repository for educational content and trainings related to the program. The TEC will be responsible for the development, design, implementation, and evaluation of a variety of educational deliverables targeted to key audiences, including AoURP participants, researchers, health professionals, and general consumer health. There will be four main staff working at the TEC—Jennifer Jones, Executive Director; Lydia Collins, Participant Engagement Lead; Program Manager (TBH); and Instructional Designer-Technologist (TBH).
The TEC uses a Team Science framework to collaborate with NLM staff and AoURP leadership to determine priorities and highlight expertise across the national AoURP consortium for material development. We will leverage existing NLM and AoURP resources, including the integration of NLM learning management system platforms to support the educational content and trainings developed. We will make sure that all projects meet federal standards to be 508-compliant with language and accessibility, and all of our participant materials will also be available in Spanish. The courses will have interactive instructional content and may include "Ask the Experts" and informative webinars aimed at AoURP participants.
In addition, the TEC will create an advisory team of professionals and consumers to assist in guiding the development, implementation and evaluation of the program. We like to think of our work as a "start-up"—there is a lot to learn and do, but we are an important part to the success and understanding of the overall program.
To learn more, and to follow what we are developing, visit the TEC website. More information about the All of Us Research Program can be found at www.joinallofus.org.
~ Jennifer R. Jones, Executive Director, Training and Education Center, All of Us Research Program