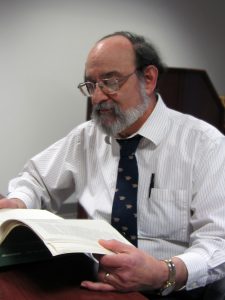 The 48th Annual American Osler Society (AOS) meeting was held May 13-16, 2018, in Pittsburgh, PA, and was co-hosted by the University of Pittsburgh and the C.F. Reynolds Medical History Society. Jonathon Erlen, History of Medicine Librarian, along with Georgia Duker, Professor of Cell Biology, University of Pittsburgh School of Medicine, co-chaired the Local Arrangements Committee. The meeting attracted over 125 participants from around the world.
The final AOS program contained over fifty-five papers, an all-time high for an AOS meeting. Topics ranged from aspects of ancient history of medicine to current medical issues. The meeting officially began with several songs performed by part of the University of Pittsburgh Female Choir. Then the Chancellor, Patrick Gallagher, warmly welcomed the AOS, followed by welcoming remarks by Bernard Goldstein, President of the C. F. Reynolds Medical History Society.
There were a much larger and diverse number of medical students than at past AOS meetings. We heard talks by medical students from many different medical schools in the United States, Canada, and Australia. These sessions were of high quality and showed promise for the future of physician-done history of medicine scholarship, one of the main goals of the AOS.
The John P. McGovern lecture was presented by K. Patrick Ober, Senior Internist from Wake Forest School of Medicine. His entertaining talk was on Mark Twain's concerns about sewer gas at the end of the 19th century.
We believe those in attendance were left with wonderful memories of Pittsburgh and the University of Pittsburgh.
~ Jonathon Erlen