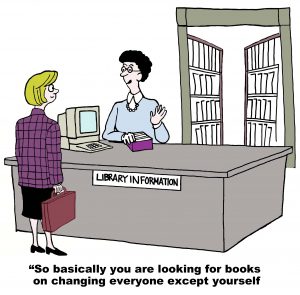 Before Google, librarians were a major source for all types of information. Since the birth of Google in 1998, it really hasn't changed all that much. October is National Medical Librarians Month, so this is a good time to write about "interesting" questions HSLS librarians have received over the years. Some are funny, odd, or just unusual.
Years ago, an outside user came to the library asking to be directed to the book section on ophthalmology. He thought Jane Pauley was working for the FBI and was spying on him. The librarian directed him to the ophthalmology section and wished him well.
A resident came to the reference desk and said that he had been in the library the night before and had used a surgery book. He didn't remember anything about the book's title, but he did remember that the book was blue. Could the librarian direct him to that book?
A librarian working in the former WPIC Library consulted regularly with the owner of a local exterminating company who was researching how to deal with customers exhibiting extreme entomophobia (excessive fear of insects).
One user was graphing some of his research data points versus time in Excel on an X Y scatter chart with smooth lines. His Y values were his data points (pressure) and X values were time (seconds). Each one of the data points he was graphing was the average of several trials. He was wondering if the librarian happened to know how to put standard deviation bars along the line, perhaps every 30 seconds.
A librarian received a phone call from an outside user asking for the definition of "Syphilitic meningitis." The family was doing some genealogical research and had sought out their grandfather's death certificate. Syphilitic meningitis was listed as the cause of death. They were surprised because they had thought he died of another brain disease. Their pointed question was, "Does this mean that grandfather had syphilis?" The grandmother was still alive. The librarian avoided any elaboration and read them a medical dictionary definition of "Syphilitic meningitis."
Many years ago, a student asked the following question: "Who invented medicine?"
About 30 years ago, a librarian had a question from a man who came to the library along with his wife to locate a center that treated patients who had been struck by lightning. The man was struck when walking in a shopping center parking lot. While the librarian tried to discuss this with him, he became confused and distracted. His wife said that one minute he's coherent and the next he's not, and she never knew when this would happen. She believed it was a direct result of the lightning strike. At that time, there was no Internet, so most of the librarian's research to locate a center was done via NLM MEDLARS (which was only available to librarians), along with print directories of organizations and research centers. The librarian was able to locate a center in Denver and one in Florida. And, of course, the location of those center were related to the number of lightning strikes in those states. Colorado had the most lightning strike deaths in the western US and Florida had the most in the U.S. Both still do today.
The oddest request one librarian ever received was from a faculty member who needed guided help to enter his grades in the online system. They went through his list of students and the librarian helped input which grade they earned that semester.
Then there are those users that needed help with their "unique" 3D printing projects, such as a:

poker chip with fraternity letters
Russian festival trophy for participants in a Russian film festival
3-way connector to hook up surgical lines and pass insulin and glucose into a central line to a mouse
part for a behavioral device for use with fruit flies
modified massage therapy and fitness product
One thing about librarians…no matter what the question, we treat all of our users with respect and try our hardest to help! Will you always get the exact answer you want, maybe not, but we'll do our best for you!
~Jill Foust