Altmetric, the altmetrics service known for its colorful donut, captures the top major medical stories each year, making their annual Altmetric Top 100 list essential reading. This year, research from the health sciences at the University of Pittsburgh is in the top 10, along with President Obama's article on health care reform and the BMJ report on medical error.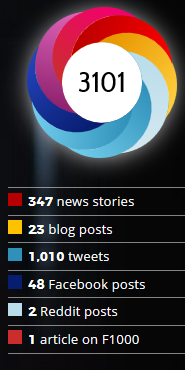 Pitt's John Jakicic, Kelliann Davis, Renee Rogers, Wendy King, Marsha Marcus, Abdus Wahed, Steven Belle, and others, authored, "Effect of Wearable Technology Combined With a Lifestyle Intervention on Long-term Weight Loss: The IDEA Randomized Clinical Trial," published in the September 20, 2016, issue of JAMA, with an Altmetric score of 3,101. The Altmetric donut score represents the sum of social media points, which are weighted according to the category. Click on each category for details, and drill down for the source full text.
What are altmetrics? Why is the Altmetric Top 100 list significant?
Altmetrics reflect the interest in an article or work itself, independent of the journal, book or larger work in which it may appear.
Altmetric indicators usually take the form of widely-available social media, such as Twitter, Facebook, and blog mentions, or Slideshare and YouTube views and downloads, but can also include more academic sites, such as F1000 and Mendeley. Think of the interactivity data as the backbone of altmetrics.
Altmetrics complement traditional citation-based metrics, which can take years to develop: they reflect immediate and short-term responses to and usage of research articles or other work, as opposed to the long-term usage of traditional citations.
Altmetrics broadly measure social impact, communication, and interaction with the public and non-scientists, as well as other researchers. With the popularity of the Altmetric Top 100, altmetrics as outreach may increase visibility, interdisciplinary partnerships, and funding.
For more information, visit the HSLS Research Impact Guide/Altmetrics or contact Andrea Ketchum at ketchum@pitt.edu or 412-648-9757.
~Andrea Ketchum