September 19-25 has been designated Peer Review Week 2016 to highlight the importance of the role peer review plays in scholarly communication. This is an excellent time to review new models of peer review resulting from the revolution of electronic publishing. The chart below illustrates the new flexibility in peer review, in both pre- and post-publication. Open review and commentary has become more common, both as a means of speeding up the publication process and encouraging open discussion.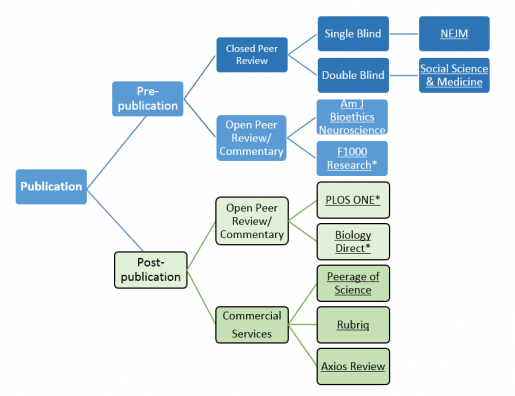 Note that authors publishing in Open Access journals retain copyright to their work, although even some traditional publishers are following that lead and becoming more generous. Check your publisher's website to confirm current copyright agreements.
Some experiments in peer review include new business models, such as ELife, which is supported by foundations and does not charge publications fees at all. PeerJ has optional memberships starting at $199 which include at least one free publication with a requirement to review one paper. (Scroll down to PeerJ FAQs for details.) These two journals were created by academics who have experienced the publication difficulties of researchers.
Another aspect being examined is reviewer incentives, especially at a time when reviewers are hard to find. Reviewers make large contributions to scholarly efforts, but are generally not rewarded in citations or institutional recognition. New businesses such as Publons are providing a standardized way of tracking reviews to be recorded as a citation for annual faculty reports or CVs. Publons is linked through ORCID and Altmetric to accurately report reviewing statistics for an author.
For those who want to know more about peer review today, see
Wiley Publishers:
The BMJ:
For more information, e-mail Andrea Ketchum at ketchum@pitt.edu or call 412-648-9757.