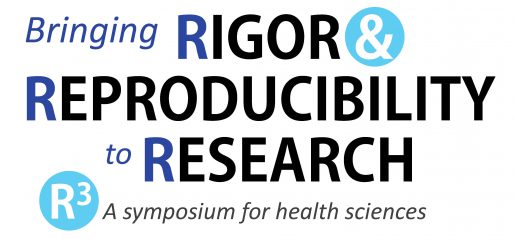 On September 22, the Health Sciences Library System and Department of Biomedical Informatics hosted the symposium "Bringing Rigor and Reproducibility to Research." Over 100 people attended to hear the featured speaker, Victoria Stodden, speak about facilitating reproducibility of computational results. She was followed by a panel discussion from Jacqueline Dunbar-Jacob, PhD, RN, FAAN, Charles Horn, PhD, Janette Lamb, PhD, and Jeremy P. Somers, PhD. After lunch, HSLS librarians provided a "spotlight" session on library and University resources that would help researchers bring rigor and reproducibility to their own research.
An evaluation distributed to attendees after the symposium suggested the information presented at the symposium would make a difference in how they did their research. When asked, in the next six months how likely are you to use information obtained from the symposium, 91% responded positively. Approximately 35% of those answering found the overview of library resources the most helpful.
Specific comments included:
"I am now more aware of the level of detail needed to provide a truly "reproducible" and transparent research."
"I got a broad view of the subject that widened my perspective."
"Really liked the panel and the HSLS presentations as they had helpful suggestions."
If you missed the symposium, you can view Victoria Stodden's presentation and the slides from the spotlight session at the symposium's website.
~Nancy Tannery