When Italian surgeon, Gaspare Tagliacozzi (1544-1599), published his treatise on nasal reconstruction, De Curtorum Chirurgia per Insitionem (Venice 1597), the work became an immediate bestseller. Though some aspects of plastic surgeries were discussed by earlier authors, it was Tagliacozzi who combined the best medical knowledge of the day with a lifetime of experience perfecting nasal surgery techniques to publish the first book exclusively devoted to plastic surgery. He developed a new method of grafting a flap from an arm instead of the forehead. Unfortunately, Tagliacozzi passed away without leaving any followers to carry on, and his method fell out of fashion.
Plastic surgery was in decline until 1816, when Joseph Constantine Carpue described the "Indian method" of nasal surgery utilizing a median forehead flap. His work, An Account of Two Successful Operations for Restoring a Lost Nose from the Integuments of the Forehead, revived the specialty shaped and characterized by Tagliacozzi two centuries earlier:
"We restore, rebuild, and make whole those parts which nature hath given, but which fortune has taken away. Not so much that it may delight the eye, but that it might buoy up the spirit, and help the mind of the afflicted."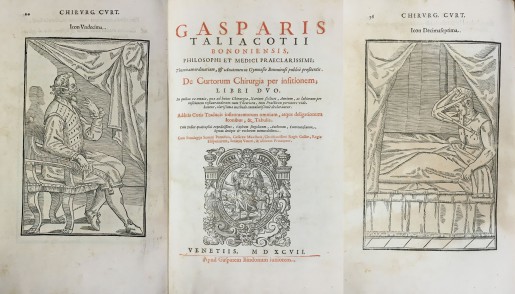 Falk Library has both of these important texts, but Tagliacozzi's book is the gem. It has key elements that transform an old book into an object of beauty: attractive font, interesting structure of text underlined by initials and separated by decorative tailpieces, 22 woodcut plates illustrating the treatise and a printer's mark, printed marginal notes, a bi-color title page, an additional engraved title page, and a beautiful vellum binding. The provenance of this important book is a mystery. The identity of a former owner who left the signature "Doc. Car. Alfieri" cannot be established with certainty at this time. The paper and binding show some signs of aging and stress due to past storage in an overly dry environment. However, considering that this book is more than 400 years old, it still has the power to dazzle the reader with its beauty!
~Gosia Fort