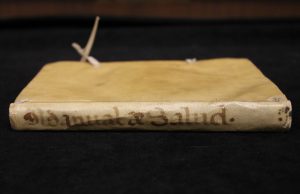 Bernardino Gómez Miedes (1520-1589) was a Spanish humanist well-versed in many disciplines. He authored two important books: Commentarii de sale (1572), the earliest discussion of salt, and Enchiridion (1589), a manual about gout. An edition of the latter, published again in Madrid in 1731, caught the eye of Dr. Gerald Rodnan.  Dr. Rodnan was an avid book collector, professor of medicine, and the former division chief of rheumatology and clinical immunology at the University of Pittsburgh, who donated his impressive collection of rheumatology books to the Falk Library.
The 1731 edition of Enquiridion is bound in limp vellum, which was the traditional and common choice of binders in the 18th century. The white leather of the cover is not decorated and has only a handwritten spine title, Manual de salud (Health Handbook). The strips of leather supporting the spine and forming the closing ties are visible though no longer functional.  Typical for the period was also the use of pages from other, usually older, books. However, the binder of our library copy took a different approach by including as end papers pages 245-246 of a contemporary Spanish medical tract, Restauracion de la medicina antigua, sobre sus mayores remedios, by Francisco Suárez de Rivera, also published in 1731.
Enquiridion was originally published in 1589. It was written in Spanish, therefore destined for a wider domestic audience than a manual written in Latin. It was dedicated to Phillip II with the intention to advise the king, who like Gómez Miedes suffered from gout, on ways to deal with pain caused by the disease. The author was not a physician, but his book shows his erudition, proves his knowledge of ancient authors like Galen, and stresses the importance of clinical observation. He introduces massage as a healing technique. Gomez Miedes' advice on dealing with pain in illness would have been especially convincing to his contemporaries, as it came from a fellow sufferer of gout.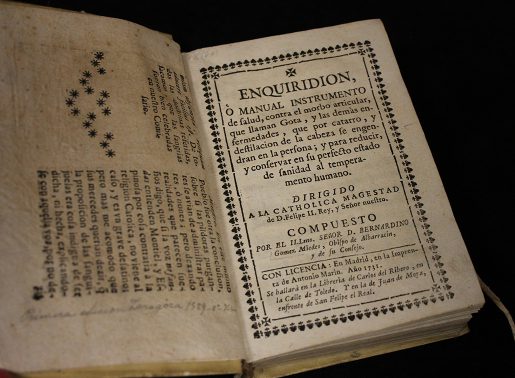 ~Gosia Fort