The most recent addition to the HSLS rare book collection is a first edition of William Porterfield's Treatise on the Eye, the Manner and Phaenomena of Vision, published in Edinburgh in 1759.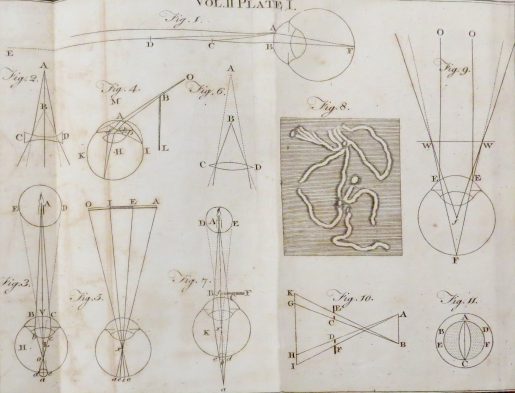 William Porterfield (ca.1696-1771) was a Scottish physician. Like many of his contemporaries he studied in Glasgow and Leiden before he received his MD from Rheims in 1717. Upon his return to Scotland, he was admitted as a Fellow to the Royal College of Physicians of Edinburgh (1721), appointed a professor (1724), and later its president (1748-1750). Not much is known about his private life, nor how and when he became interested in optics, but he is the author of pioneering work on the physiology of the eye. He wrote articles about external (1737) and internal (1738) eye movements and also described the first optometer for measuring the near and far points of vision. However, it was his book, Treatise on the Eye, the Manner and Phaenomena of Vision, that made him an authority on vision. It was praised by ophthalmic historians as one of the most erudite works, far ahead of others of similar scope. Its greatest strength lay in its numerous original experiments and observations about visual physiology. According to Garrison, his Treatise on the Eye, "was the first important British work on the anatomy and physiology of the eye." (Garrison-Morton 1484.2)
Porterfield also gave us the earliest first hand doctor's account of phantom limbs after his leg was amputated. He incorporated his phantom limb experiences into his account of sensory function.
This book is a gift from Dr. E. Kenneth Vey, a local physician, former professor in the School of Medicine, and past president of the Pittsburgh Ophthalmology Society. Prior to Vey's ownership, the "office copy" belonged to other prominent practitioners from the area. The book also bears the stamp of the so called Vattemare's agency in Paris. Vattemare's was the international book exchange program established by Library of Congress in 1848. Allexandre Vattemare was the author of the exchange system and the first agent of the Library of Congress.
~Gosia Fort