Early publishers of medical books were always eager to adopt technological novelties in photography to enhance the educational power of a text. Therefore, it is not surprising to find a book with the Woodburytype print in our collection.
Woodburytype is a print produced by a special photomechanical process, in which a mixture of pigments suspended in warm gelatin is poured onto a relief surface, and then transferred to paper by pressing. There is a three minute YouTube video explaining this technique. The resulting illustration is in slight relief (it looks like a photograph mounted on paper). It was developed by Walter B. Woodbury and was widely used in fine book illustrations during the last three decades of the 19th century. Illustrations produced with this method perfectly replicated the details of a photograph. The use of carbon black and stable inorganic pigments made images resistant to fading. The attempts to adopt this technique to rotary printing were not successful and Woodburytype printing was replaced by collotype and halftone processes in the 20th century.
Auguste Felix Voisin (1829-1898), the author of the "old psychiatry book" mentioned in the title of this article, studied medicine under the guidance of his father, a physician in Le Mans. Influenced by his physician uncle, Felix, he devoted himself to the study of mental diseases. He was a physician in Paris at Bicêtre, and later at Salpêtrière, where he practiced from 1867 until his death. His experiences and clinical cases from these hospitals were used in his book, Leçons cliniques sur les maladies mentales (1876). Amplifying its success, he revised the book in 1883 and published it under a slightly different title, Leçons cliniques sur les maladies mentales et sur les maladies nerveuses. The second edition, held at Falk Library, was enlarged to 776 pages by adding new chapters on madness and therapy, and new iconography. In addition to lithographic illustrations scattered throughout the text, the book includes color plates, and the three plates of Woodburytype prints showing patients suffering from delusions, addiction, and melancholy. This book can be viewed in the Rare Book Room by appointment.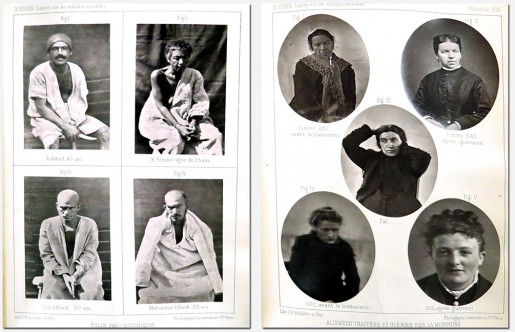 ~Gosia Fort