The riveting story circulating on the Internet about Philip Verheyen dissecting his own amputated limb effectively draws attention to the Flemish surgeon and anatomist. He came from a modest family and was educated, with the help of private sponsors and communal funds, at the University of Leuven in Belgium. A brilliant student, he was on the fast track to complete his education to become a clergyman only to be halted by sudden illness which resulted in the amputation of his leg. Forced to change his career, he turned to medicine. After earning his degree in 1681, he continued his education at the University of Leyden, Holland, where he completed his doctoral dissertation and became acquainted with the greatest Dutch anatomists of his time. He returned to Leuven, where he was eventually granted the title of Royal Professor of Anatomy and was elected as Rector Magnificus in 1689.
Philip Verheyen (1648-1710) was a well-read, independent researcher, though his working conditions as a professor of anatomy in Leuven were far from perfect: the bodies were scarce and difficult to acquire, and there were no facilities to dissect them (the first theater for dissections was not built until 1744, long after his death). He was not as prolific an author as his northern colleagues. He only published five books. His most renowned work, Corporis humani anatomiae, published in 1693, was reprinted 21 times and became the textbook of choice for students at many European universities. The illustrations were of lesser quality (he most likely drew them himself) than those in contemporary atlases written for anatomists. However, Verheyen's book was not only an atlas, but also a concise manual demonstrating to its readers that studying anatomy is an integral part of studying physiology. It was written specifically for students and by the author's design was meant to be affordable. It remained a work of reference until the middle of 18th century.
Falk Library has a second edition of Corporis humani anatomiae, published posthumously in 1710, at the request of Verheyen's widow.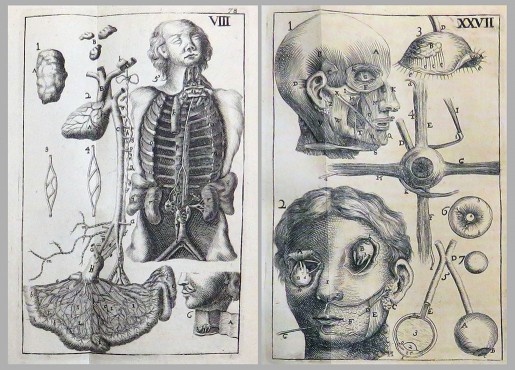 The book can be viewed in the Rare Book Room by appointment.
~Gosia Fort