Need an image for a project? Give the Public Health Image Library (PHIL) a try. Produced by the Centers for Disease Control and Prevention (CDC), PHIL provides a gateway to thousands of public health-related images. The content is organized into hierarchical categories of people, places, and science, and is presented as single images, image sets, and multimedia files.
Search Features
PHIL provides both basic and advanced search features. You can also search by type of collection including: influenza, natural disasters, environmental health, bioterrorism, health behaviors, and more.
PHIL uses the National Library of Medicine's Medical Subject Headings (MeSH) to index the images. Once an image is viewed, click on one of the assigned MeSH terms to retrieve similar images indexed with that term.
Initial search results include thumbnail images. Click on a thumbnail for additional information about that image.
Copyright restrictions
Most of the images in the collection are in the public domain and are free of copyright restrictions. For these images, the CDC requests that you give credit to the supplier or producer of the image. Some images are copyright protected, which means use is restricted and requires permission. Look directly beneath the image and you will see the fair use statement that tells you if the image is in the public domain or copyright protected.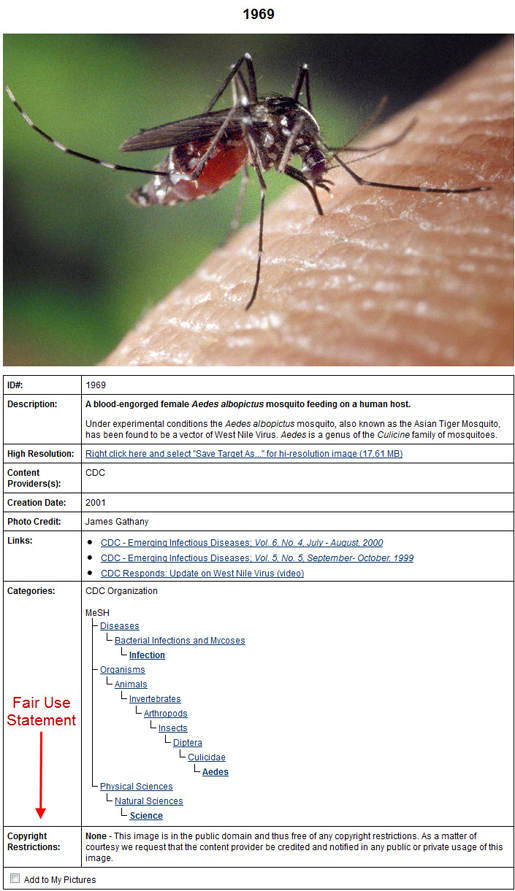 *Parts of this article were reprinted from the Public Health Image Library.
~Jill Foust