Imagine replicating a scan of a patient's heart for tangible examination before surgery. Researchers may envision a microscopic tool that is essential to their field of research. Perhaps there's a small adjustment to an ordinary item that would make the life of a child with disabilities that much easier. These are the types of innovations that 3D printing is making possible for the community at large.
As a Pitt affiliate, you too can see your ideas come to life with 3D printing. HSLS has partnered with the Swanson Center for Product Innovation in the School of Engineering to bring 3D printing services to you. Use of 3D printers, materials, and design consultations are available, sometimes at no cost.
The Swanson Center for Product Innovation operates two consumer-level printers, the Makerbot Replicator 2 and the Makerbot Replicator 2X, as well as two professional-grade printers, the Stratasys Dimension 1200 EX and the 3Dsystems Viper SLA.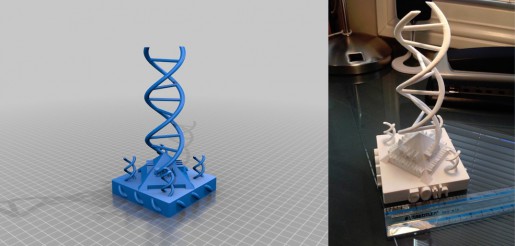 So how does 3D printing work? 3D printers use a material called filament to print an object layer by layer. The hot filament cools on contact with the next layer of filament, creating a solid wall of material. On a consumer 3D printer, the objects will be printed hollow, and you will be able to see and feel the texture of the different layers of material.
To get started, you'll need to use a 3D scanner or create a design using a program like Tinkercad. A collection of 3D object designs are also available to download at Thingiverse.
When the object is sent to the printer, you will decide the size, density, and other properties. Smaller, less-dense items can print in under an hour, and larger, denser objects can take several hours to print. Note that not all printing projects succeed the first time, and you may have to go back and change the printing preferences to get the desired object.
For details about 3D printing options at Pitt or a consultation for your project, e-mail Julia Dahm, technology services librarian.
~ Julia Dahm