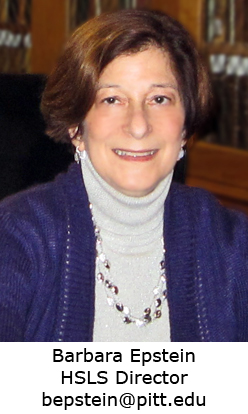 There are many different types of new year celebrations: calendar new year, fiscal new year, Chinese new year, Persian new year, Jewish new year, and more. On a college campus, though, the beginning of the fall term in August and September always seems like the real new year. We welcome new and returning students and faculty to the bustle of new classes, new projects, new friends, and new challenges.
At the Health Sciences Library System (HSLS), librarians spent the summer preparing orientations and classes, and freshening Web portals, and user guides. Please take a few minutes to explore our home page, and introduce yourself to your program's liaison librarian. Our library offers a full range of services, including hands-on workshops and individual reference consultation. Sample our "flash classes," one-hour classes offered with the same social media approach as popular deal-of-the-day Web sites such as Groupon and Living Social. (If three or more people sign up, the class is held; if not, the topic is re-cycled for a later date).
Basic scientists should explore our Molecular Biology portal and sign up for e-mail alerts. We license a broad array of software packages on genes and proteins, sequence analysis, gene regulation, genetic variation, microarray data analysis, next generation sequencing, pathway analysis, and pathway drawing. Hands-on workshops are offered frequently; presentations are archived for future viewing. Consultation services are available by appointment.
HSLS offers a comprehensive collection of electronic books, journals and databases, with 24/7 access from anywhere through Pitt's EZproxy Service. Many e-resources also have mobile apps for easier use when you're on-the-go. Since not every book is available online, we still buy some print textbooks, too. When you want to take a break from studying, check out our Leisure Reading books, a small collection of fiction and non-fiction bestsellers.
No need to lug around your computer; borrow a laptop or tablet from the technology help desk on Falk Library's upper floor. Forgot your flash drive or charger? Borrow one of ours. Study with your classmates in a group study room; these can be reserved online up to three days in advance for a four-hour period. Want to practice an upcoming presentation? Group Study Room E is equipped with a media console that allows you to videotape yourself giving a presentation as well as record your onscreen presentation from a laptop. Save your video file to a flash drive and take it home to review.
Mark your calendar to visit our upcoming exhibit on Shakespeare and the Four Humors, on loan from the National Library of Medicine from September 29 through November 8.
We look forward to "seeing you" in person or online!