Numismatists and hobbyists are familiar with historical tokens (coin-like objects with quasi monetary value, issued by a private group or individual). Some tokens served as emergency "money" during the small-change shortage (Civil War tokens), entrance tickets (Roman spintriae), or store cards (merchant tokens), while others commemorated an event, anniversary, place or person (communion tokens).
The "Beard Tax" Token
Tokens are fun to collect and sometimes have fascinating histories. For example, when Tsar Peter the Great wanted to westernize Russian nobility in the 17th century, he imposed on his subjects a prohibition against wearing beards. He found that public officials were willing to part with their beards for a small reward. Seeing the opportunity, Peter enacted a law to force peasants to shave too, but at the same time he gave everyone a way out: you could pay a progressive tax and keep your beard. In return, the payer was given a copper token with the image of a beard and the Russian words for "tax paid."
Dutch Physician's Token
Falk Library has an interesting token in its special collections. It was issued by the Hortus Medicus, the botanic gardens of the University of Amsterdam, founded in 1682 by a decree of the Amsterdam City Council. The gardens were planted in 1683. It is one of the oldest botanical gardens in the world. Hortus Medicus was created to serve as an herb garden for doctors and apothecaries, and to heal the city after the bubonic plague. The first tokens, that granted admission to the garden for physicians, surgeons, and chemists, were sold in 1684. The specimen in our collection is from the first series. It has a clearly visible issue date and the name Hortus Medicus. Under the vase of flowers there is a place to incuse the name of the pass holder (initials H.V.B.). The reverse has an image of a skeleton with a scythe, resting its hand on an hourglass which is positioned on a tomb. The token is made of brass and measures 44 mm (1.25 inches) in diameter.
Click on the image below to rotate the token.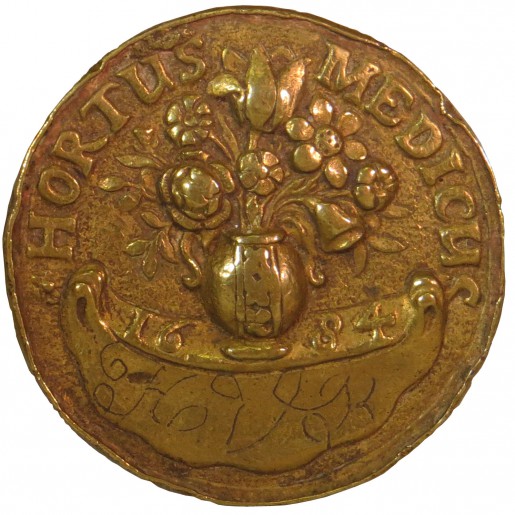 The Dutch physician's token can be viewed in the Rare Book Room by appointment.
~ Gosia Fort