Willibald Pirckheimer (1470-1530), a German humanist from Nuremberg, was a friend of Erasmus and Albert Dürer and one of the most acclaimed men of his time. He was educated in Italy, and upon his return was elected to the Nuremberg City Council. Pirckheimer was able to help the city with his legal expertise. His fierce temperament and outspoken criticism, however, did not make him popular among his fellow citizens. Despite many years of service and his patrician background, he never achieved the same admiration in his native city that he enjoyed elsewhere as a gifted and influential spokesman of German humanism. He chose Latin as his language of expression, but initially did not publish very much. It was the breadth of his interests, connections, and views expressed in letters that earned him fame.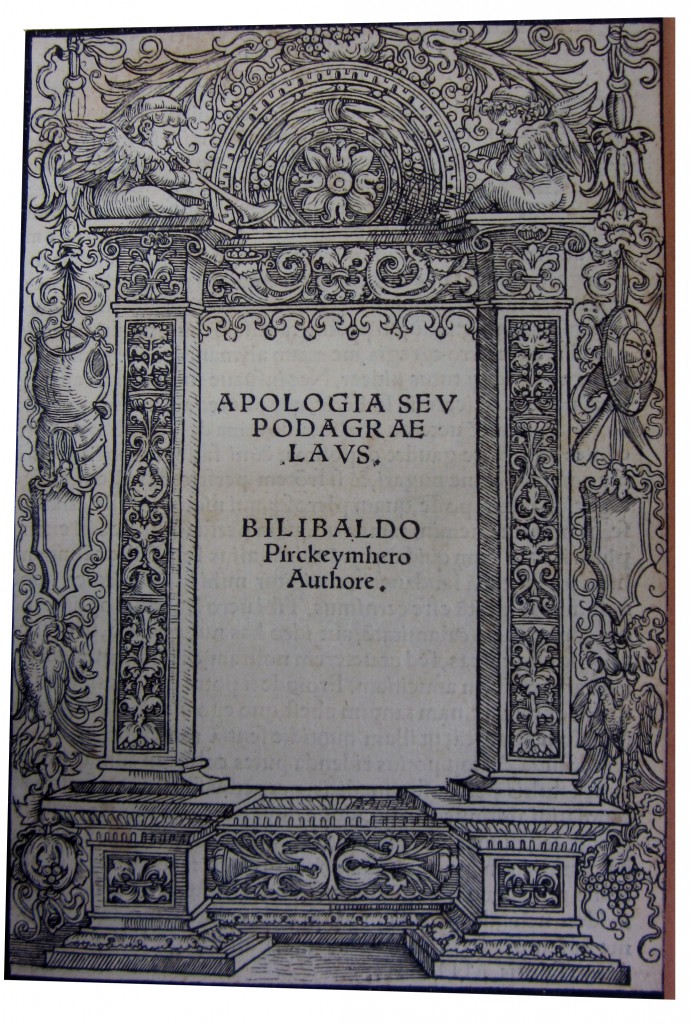 One of his later published works was Apologia seu Podagrae laus (Nuremberg 1522), an ironic praise of gout, from which he suffered. In this short witty eulogy to gout, Pirckheimer takes on the role of "woman gout," in a literary game to settle scores with his enemies.
This 16th century leaflet, housed in the Falk Library Rare Book Room, is only 23 pages long. The text is in perfect condition. Its title page has a beautiful woodcut border. There are no illustrations other than the two woodcut initials at the beginning of the preface and the main text. The book has a contemporary paper binding. It was a common practice for the purchaser of a book to order a binding since early prints were usually published without them. Therefore, the binding tells us more about the owner than the publisher. The book was donated to the library in 1985 as part of the Gerald Rodnan collection.
This book can be viewed in the Rare Book Room by appointment.
~ Gosia Fort