William Harvey (1578-1657), physician to the English kings James I and Charles I, is best known for his work, Exercitatio Anatomica de Motu Cordis et Sanguinis, published in Frankfurt in 1628. This book is considered to be one of the most important texts in the history of medicine. Physiologists before Harvey knew that blood is not a stationary fluid, but it was Harvey who clearly demonstrated for the first time that blood is pumped by the heart and moves in circular fashion.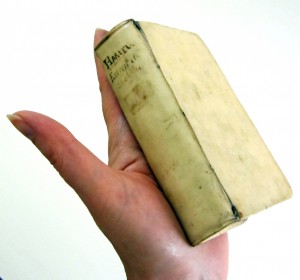 The Falk Library collection includes a pocket-sized edition of this famous work published in the Netherlands in 1648. The book is only 12 cm tall and easily fits in the palm of your hand. It is bound in plain white vellum and has a brief handwritten title on the spine.
It is a beautiful example of the bookbinding method called limp vellum. With this method, a text block is laced into folded vellum covers made from a single piece of smooth and durable animal skin. Vellum, unlike leather, is bleached and not subjected to any tanning processes. In the 17th century, it was a simple and popular way of binding functional books. Though viewed with disdain by historians and called "cheap and temporary," this style of binding attracted new appreciation after Christopher Clarkson, a book conservator working on books damaged by flooding in the city of Florence in 1966, discovered that books bound in vellum not only survived the flood better, but vellum also provided much better protection to the text block than leather binding.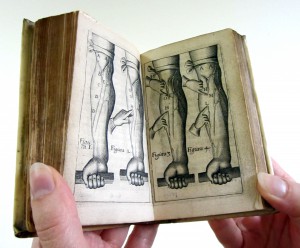 Vellum is best stored in a stable environment with controlled temperature and humidity, such as that in Falk Library's Rare Book Room.
Provenance of this book is unclear. The last traceable owner was James D. Heard, who purchased the book in 1893 and brought it to Pittsburgh when he joined the faculty of the School of Medicine around 1909 until his retirement in 1953.
The book can be viewed in the Rare Book Room by appointment.
~ Gosia Fort