One of the many exciting roles of a regional medical library is exhibiting at national, state and local meetings and conferences. Exhibiting offers the opportunity to demonstrate National Library of Medicine (NLM) products to health professionals, consumer groups, and public, school, and health sciences librarians. It is also a great way to encourage membership and promote the services of the National Network of Libraries of Medicine.
In our first year as a regional medical library, the National Network of Libraries of Medicine, Middle Atlantic Region (NN/LM MAR) staff promoted NLM resources to over 1,000 health professionals, public health workers, community-based leaders, and librarians. We did this by exhibiting at four national and eight regional/state meetings. For instance, MAR highlighted drug information resources to pharmacists at the American College of Clinical Pharmacy Annual Meeting; emergency response tools and public health resources at the New Jersey Environmental Health Association Meeting; and K-12 resources to school librarians at the New York City School Library Association Annual Conference. Staff also reached a large population of health consumers at an employee health fair in Pittsburgh.
MAR also offered exhibit awards to allow Network members the opportunity to exhibit at a state or local level. Public health librarians from Drexel University exhibited at the Pennsylvania Public Health Meeting in Philadelphia. Mid-Atlantic Behavioral Health received an award to exhibit and present mental health services and resources to senior citizens in Newark, Delaware.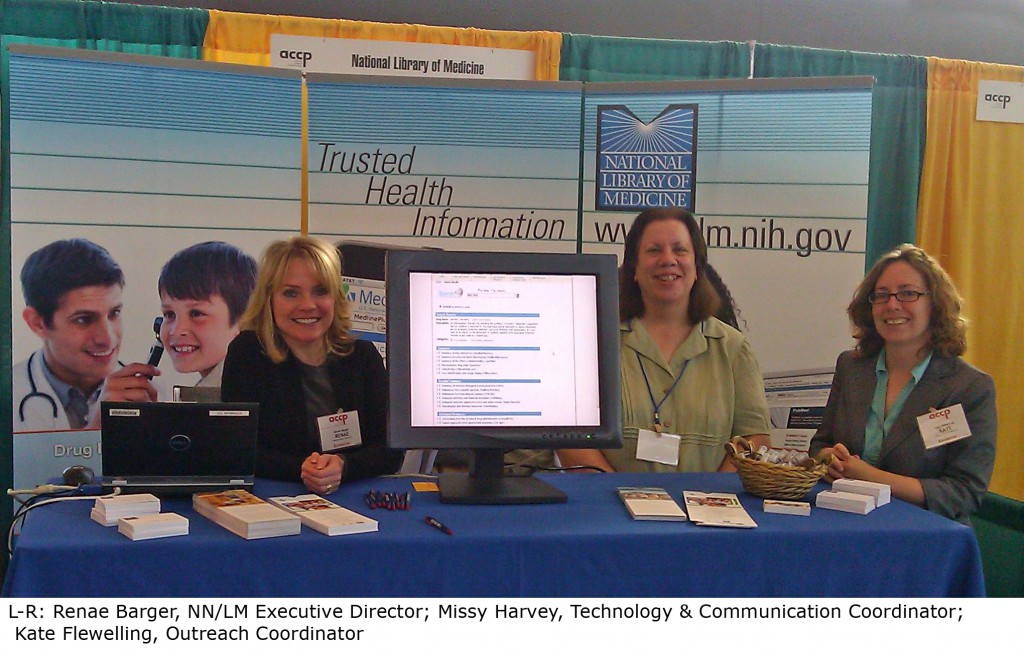 The 2012–2013 regional medical library contract year began on May 1. So far, MAR has exhibited at the following national, regional, and state meetings:
American Psychiatric Association
American Diabetes Association
National Association of Counties
Delaware/Maryland Joint Library Association
New Jersey Library Association
Pennsylvania Mental Health Consumers Association
State University of New York Library Association
Information professionals in public libraries, community colleges, and institutions offering two-year and four-year academic programs in the health sciences may visit the MAR exhibit booth at upcoming New York and Pennsylvania state library association meetings. K-12 librarians and science teachers will benefit from MAR exhibits at the New Jersey Association of School Librarians, New York City School Library System, and the New Jersey Science Convention meetings.
NN/LM MAR staff will reach out to public health workers and unaffiliated health professionals at the Migrant and Immigrant Health in Rural Pennsylvania Conference, as well as upcoming meetings of the New York Public Health Association, the Pennsylvania Public Health Association, and the New Jersey Public Health Symposium. And finally, MAR plans to exhibit to mental health professionals and consumers during the Delaware Community Mental Health Conference, Delaware Psychological Association Mixer, and the annual conferences of the Pennsylvania Mental Health Consumers and New Jersey Association of Mental Health and Addiction Agencies.
Do you belong to a professional organization that would benefit from access to free, reliable biomedical information provided by the National Library of Medicine? Do members of your organization provide patient education? If so, you can invite us to exhibit or teach a continuing education course at your next annual meeting in our four-state region of Delaware, New Jersey, New York, and Pennsylvania. For more information, e-mail NN/LM MAR.
~ Renae Barger, NN/LM MAR Executive Director