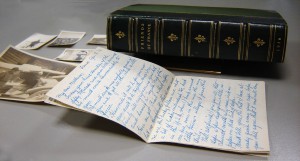 Friends of France: The Field Service of the American Ambulance Described by Its Members. Boston: Houghton Mifflin, 1916.
In the early days of World War I, Americans living in Paris founded the American Hospital. In August 1914, the American Hospital organized the American Ambulance of Paris, a volunteer service to transport the wounded from the French battlefields. In December 1914, the arrival of Harvard graduate Abram Piatt Andrew expanded the scale of operations beyond France. He secured authorization from the French Army for his ambulance units to serve with the French divisions at the front. He used American volunteers as drivers and cars donated by Americans to build an organization known as the American Field Service, which operated independently until 1917 when it was taken under the wings of the American Army. It attracted students and graduates of American colleges. Harvard alone contributed 325 volunteers, and Yale, Princeton, Dartmouth and Cornell were well represented in the service as well.
Friends of France was published in 1916 to document the history of the American ambulance field service through the letters, narratives and stories of first-year volunteers. The copy in Falk Library is a unique volume that includes handwritten letters and photographs sent from the fields of France by William Henry Clowes Walker of Hingham, Massachusetts to Harry W. Mathews. The personal memorabilia are mounted on 26 leaves or are tucked into a back cover pocket.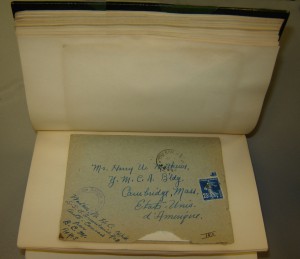 The 11 letters from Walker to Mathews were written between December 16, 1915, and May 13, 1916, during the first months of Walker's service. His photographs capture the life and the surroundings of the Argonne Forest and Verdun where the American field ambulance unit operated in 1916 and 1917. Most of the 15 photographs from the back cover pocket bear handwritten inscriptions by Walker. The remaining photographs are labeled and mounted on the added leaves in the book. The volume also includes a bound-in telegram announcing Walker's arrival in Boston in June 1916, two maps of Verdun and a typescript of a poem "The Ambulance Driver" by Emory Pottle (another "gentlemen volunteer") dated December 1915.
Friends of France: The Field Service of the American Ambulance Described by Its Members is located in the Rare Book Rooms at Falk Library. It can be viewed on Mondays and Wednesdays from noon–3 p.m., and other times by appointment.
~ Gosia Fort