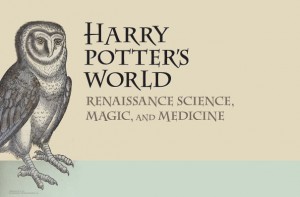 Harry Potter and friends are coming to Falk Library next year when we will host a traveling exhibit titled Harry Potter's World:  Renaissance Science, Magic, and Medicine.  The exhibit, produced by the National Library of Medicine, and coordinated by the American Library Association, uses materials from the historical collections of NLM to explore Harry Potter's world and its roots in Renaissance traditions.
Watch for announcements about programs and events planned in conjunction with the exhibit, which will be here from February 13 to March 26, 2011.  If you're a Harry Potter fan and have ideas or suggestions for events or speakers, please share them on our Harry Potter comments tool.
To help you brush up on Harry's adventures and wizarding education before the exhibit arrives, HSLS is sponsoring monthly Harry Potter movie nights in Scaife Hall Lecture Room 6.  Take a break from studying for free entertainment** on the second Monday of every month at 7 PM:
Monday, Oct. 11, 2010:  Harry Potter and the Sorcerer's Stone
Monday, November 8, 2010:  Harry Potter and the Chamber of Secrets
Monday, December 13, 2010:  Harry Potter and the Prisoner of Azkaban
Monday, January 10, 2011:  Harry Potter and the Goblet of Fire
Monday, February 14, 2011: Harry Potter and the Order of the Phoenix
Monday, March 14, 2011: Harry Potter and the Half-Blood Prince
** Limited to those affiliated with University of Pittsburgh or UPMC; please bring your campus or UPMC ID.
~ Barbara Epstein