Google Scholar now includes links to HSLS e-resources through our WebBridge link resolver.  WebBridge is a tool that provides links from an article citation to the full text of that article. Look for a Links @ Pitt-UPMC option on Google Scholar results. Clicking on this link will take you to WebBridge, which will have a link to the HSLS-licensed article. Note that the link will appear as plain text, rather than the familiar blue button with the same text as seen in PubMed, Ovid, and other databases. The link may appear either in the margin to the right of an article summary or directly underneath the article summary.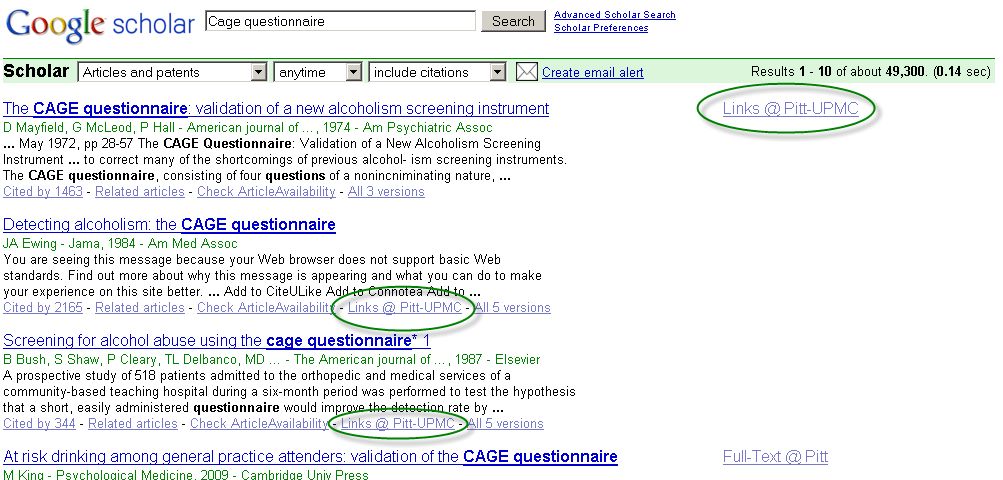 Links @ Pitt-UPMC should appear for all users accessing Google Scholar from a computer located on the University of Pittsburgh campus or at a UPMC facility.  Off campus users should access Scholar by first logging in remotely to either the Pitt or UPMC proxy server and then choosing the Google Scholar link from the HSLS database list to ensure that the links are displayed and that access to the licensed full-text e-resources will be available.
Google Scholar also includes links to the University Library System's link resolver, which may lead to different e-resources than the HSLS link resolver.  These links are labeled Full-Text @ Pitt or Check Article Availability rather than Links @ Pitt-UPMC.  While both types of links will generally lead to e-resources licensed for both Pitt and UPMC patrons, researchers looking for health sciences-related information may prefer to use Links @ Pitt-UPMC, as these are supported by HSLS.
For questions, contact the Falk Library Main Desk at 412-648-8796 or email Ask A Librarian.
~ Geoffrey Spear