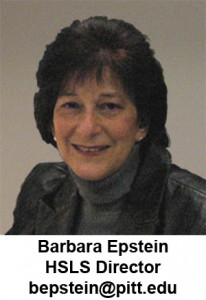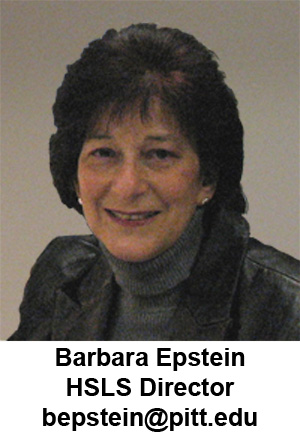 I recently returned from the Annual Meeting of the Medical Library Association in Washington, DC.  This is a grand gathering of more than 2,000 health sciences librarians from large and small settings across the United States and beyond.  I attended my first MLA meeting in Cleveland in 1975, and I've missed only two meetings since then.  It's an opportunity to "re-charge my professional batteries," learn about emerging trends and technology, connect with colleagues, and see what's going on in comparable library settings.  While I used to lug home notebooks full of ideas for new projects, now my to-do list is electronic.
I was very proud of the many HSLS librarians (listed elsewhere in this issue) who presented papers and posters, and participated in panel presentations and committee meetings.  Our informatics trainee, Katrina Kurtz, won the award for best student presentation!
As a member of the Joint Legislative Task Force of MLA and AAHSL (Association of Academic Health Sciences Librarians), I spent an afternoon on Capitol Hill advocating for support of the National Library of Medicine and NIH.  Among others, I visited the offices of Allyson Schwartz (D-PA-13), who is co-chair of the Congressional Academic Medicine Caucus, and our own Representative Mike Doyle (D-PA-14).
I am especially pleased that Representative Doyle recently introduced the Federal Research Public Access Act (H.R. 5037).  Similar to the NIH Public Access Policy, this bill, known as FRPAA, would require federal agencies with annual extramural research budgets of $100 million or more to provide the public with online access to research manuscripts stemming from funded research no later than six months after publication in a peer-reviewed journal.  This bill was also introduced in the Senate as S.1373.  While FRPAA has a long way to go before it becomes law, it is certainly a positive step toward promoting openness, transparency, and accessibility of publicly funded research results.