Falk Library of the Health Sciences recently hosted a national traveling exhibit honoring African American academic surgeons. "Opening Doors: Contemporary African American Academic Surgeons" is a collaborative effort between the National Library of Medicine and the Reginald F. Lewis Museum of Maryland African American History and Culture in Baltimore.
Several events offered opportunities to view the exhibit. In November, students from the University of Pittsburgh Premedical Organization for Minority Students (P.O.M.S) visited the exhibit and listened as Kia McLean Washington, surgical resident at the University of Pittsburgh, Division of Plastic and Reconstructive Surgery, shared her journey of choosing a surgical career.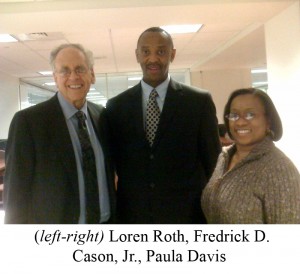 Also in November, Fredrick D. Cason Jr., surgeon-in-chief, Louis Stokes Veterans Affairs Medical Center and associate professor of surgery, Case Western Reserve University School of Medicine, gave a public presentation on "The African American Surgeon: A Century of Growth."
In January, Velma Scantlebury, transplant surgeon, professor of surgery, assistant dean for community education, director of the division of transplantation, and director, University of South Alabama Regional Transplant Center, moderated a career panel that included:
Bradley Stephens, 4th year medical student, University of Pittsburgh
P. Dafé Ogagan, MD, resident, Department of Urological Surgery, UPMC
Tracy Short, MD, resident, General Surgery, UPMC Mercy
William Simmons, MD, clinical associate professor, Department of Anesthesiology, UPMC Shadyside
Panelists shared their experiences leading to a career in medicine and impacting their specialty choice.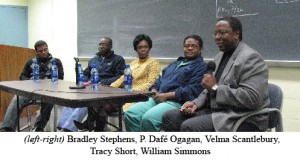 The Health Sciences Library System is grateful to Paula Davis, assistant vice chancellor for health sciences diversity, for her help in planning the events surrounding the exhibit.
~ Renae Barger