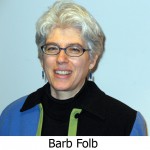 In 1999, Barb Folb began her HSLS career as a reference/outreach librarian at Western Psychiatric Institute & Clinic (WPIC). Four years later, she was appointed public health librarian/liaison to the Graduate School of Public Health (GSPH). In that position, she provided reference services and library instruction to faculty, staff, and students.
Several years ago, Barb began attending public health classes at GSPH. Because public health encompasses many academic disciplines, Barb quickly realized the more she learned about the various disciplines, the better she was able to deliver information services to users. This led Barb to apply for a two-year informationist training grant from the National Library of Medicine (NLM). An Informationist combines a strong background in library science with expertise in a specialized subject area such as biomedical research, consumer health, or public health. Informationists are usually embedded with the professionals they support. Barb was awarded the fellowship in 2007.
The fellowship has allowed Barb to further her education and work experience in public health. She spent the past two years at GSPH earning a Master's of Public Health degree emphasizing behavioral and community health sciences. She also earned an Evaluation of Public Health Programs certificate. She completed her course work in December, 2009, and is currently working on her thesis. Her research area is the information needs and behaviors of disaster response professionals.
During her fellowship, Barb completed two practicums. The first, from January, 2008 through December, 2009, was at the GSPH Center for Public Health Practice, where she assisted with the information needs of professionals working in the field of disaster preparedness.
Barb then went on to complete a second, four-month practicum at the Schuylkill County Emergency Management Agency, where she performed information searches on topics related to Strategic National Stockpile distribution planning. She also observed the daily operation of the Schuylkill County Emergency Management Agency, and attended planning meetings of the Task Force Health and Geographic Information System regional integration committee.
Now back at HSLS, Barb is working as a public health informationist and has two offices—one at Falk Library and the other at GSPH in the Center for Public Health Practice. Because of her fellowship experience, Barb better understands the context in which the faculty, staff, and students at GSPH operate, and can better meet their information needs.
~ Jill Foust