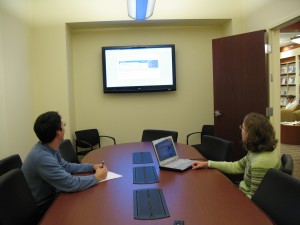 A new conference room with seating for 10-12 people is now available at UPMC Shadyside Libraries.  The Q & A's below will help you plan for future meetings or classes.
Who can reserve the room?
UPMC Shadyside clinical staff and faculty can reserve the room for use during regular library hours (Monday – Friday 8 a.m. – 6 p.m.).
How do I reserve the room?
You may reserve the room either in person or by calling 412-623-2415. Library staff will make your arrangements.  Reservations are available on a first-come first-served basis.
What technology and equipment are available?
The room is equipped with a projection/LCD monitor.  There is no computer in the room, but you may bring your own laptop or borrow one from the front desk for up to four hours.  Internet is available via the Pitt wireless network –no UPMC network connection is available.
May I provide food for a meeting in the conference room?
No food is permitted.  Drinks with a lid are allowed.
~ Michelle Burda