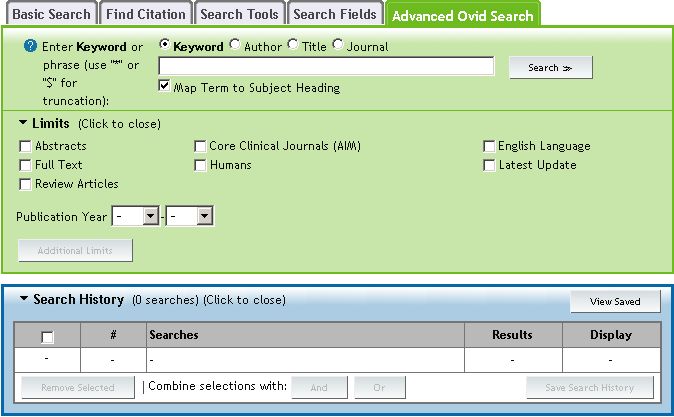 In January, HSLS introduced Ovid's redesigned interface, now called OvidSP. Although visually quite different, the updated interface commonly used to search databases such as MEDLINE and PsycINFO, maintains the same functionality.
Search options are brought together under five tabs. Through the HSLS Web site, the Advanced Ovid Search is the default tab, opened automatically when OvidSP is launched. The advanced search allows for searching with a controlled vocabulary, such as Medline's Medical Subject Headings (MeSH). If a search term entered is not in the controlled vocabulary, the search interface will suggest the appropriate term(s), or allow for free-text keyword searching. Search results are displayed in reverse chronological order, i.e. most recent citations are displayed first.
The Basic Search tab allows users to search by entering free text terms or questions such as "weather related migraine" or "ekg changes in hyperkalemia". The search can include "related terms", as defined by OVID, or check for misspellings. These options can be chosen via checkboxes below the search box. Quotes, hyphens, or parenthesis should not be used in the search. It is important to note that Basic Search is designed to find the most relevant results, not all possible results. Results are sorted by relevancy, not publication date.
The Find Citation tab locates missing citation information (e.g., page or volume numbers). Enter known information and then search. The complete citation will appear.
The Search Tools tab explores the relationship between terms and subjects within the context of the database being searched. Enter a term and then select map term, tree, permuted index, scope note, explode, or subheadings for more information.
The Search Fields tab allows the search to be narrowed to specific fields, such as grant number or institution.
Other new features in OvidSP include the ability to create RSS feeds for new citations in an area of interest, or the table of contents of a current journal. The Search Aid box, which appears on the left of the screen once a search has been run, allows searches to be narrowed by the subjects, author, or journals found in the retrieved citations.
For more information about OvidSP, view the short HSLS-produced tutorial available at www.hsls.pitt.edu/resources/ovid/.
~ Linda Hartman