Faculty of 1000 Biology (F1000 Biology) is described as a "next generation literature awareness tool." Its purpose is to help researchers identify trends and highly regarded papers through reviews and recommendations, generated by over 2,300 leading researchers from around the world, including 21 faculty members from the University of Pittsburgh.
F1000 Biology is run by scientists for scientists and is useful because it:
• systematically organizes and evaluates the mass literature
• can identify key papers in areas outside of your area of expertise or in journals outside of your normal browsing sphere
• can confirm the importance of specific papers
• provides quick suggestions for journal club articles
Each article is assigned a rating and one of seven classification types, as shown below.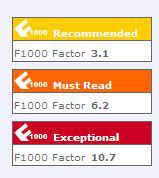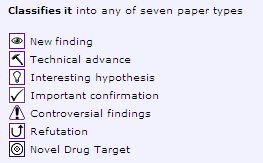 The HSLS Molecular Biology Information Service has integrated F1000 Biology into the search interface on the MolBio home page. This Vivisimo-driven search, found under the Recommended Articles tab, allows researchers to limit their search results to titles recommended by F1000 Biology. Articles are clustered on the right of the results page by subtopic, rating, or classification.


See F1000 Biology's FAQ page for more information on this useful tool.
~ Melissa Ratajeski and Carrie Iwema